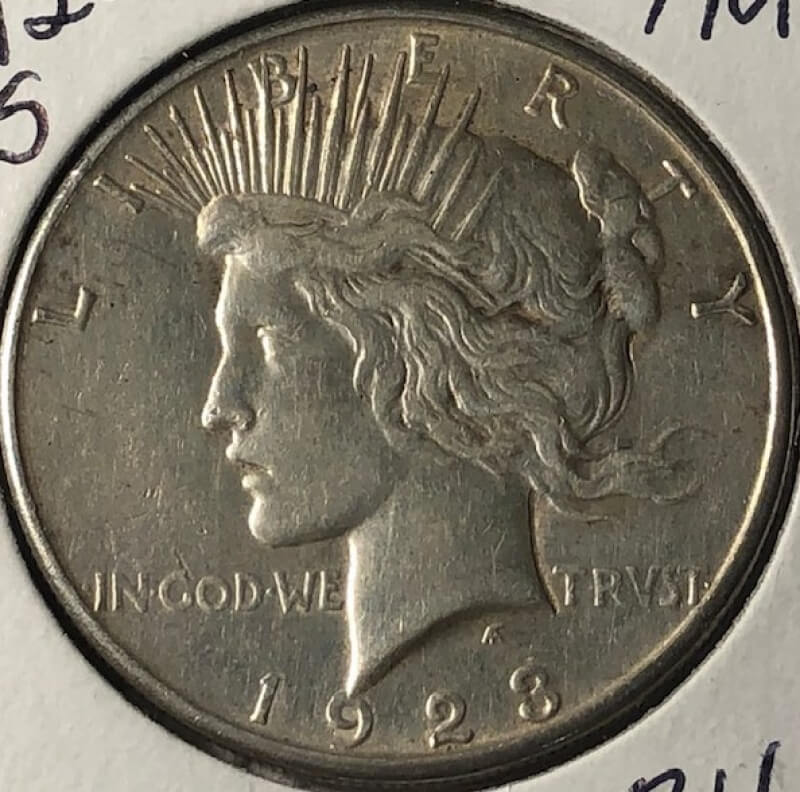 More Peace Dollar Hoards?
Good afternoon folks!
     This is not the usual time that I blog, but I've been pretty busy today "weeding" my collection. I haven't posted for some time now due to a couple of reasons: 1) Tax time was extended to May, 2) My account manager requested I forego purchasing items for my collection for a couple of months, and 3) I have two small puppies of which one just got spayed. I did update my Peace Dollar collection today and added 5 more items that were previously purchased and were laying on my jewelers tray. They were a 1921, 1923-S, 1924, 1925, and a 1934-S. They were all 38.1 mm, they all weighed approximately 26.73 grams, were all designed by Anthony de Francisci, and were composed of 90% silver and 10% copper. All of these dollars were of different grades. Check out the pictures and let me know what you think.
     The main reason I wanted to check in with everyone is that I did "break" one of the reasons above. I ran across a Peace dollar that came from what the seller says is called the "Gettysburg Hoard". I immediately went and checked my copy of A Guide Book of Peace Dollars, 4th edition, updated and revised and sure enough, there wasn't a hoard by this name listed. On page 134, the Redfield, GSA, and Binnion hoards are mentioned but not the Gettysburg hoard. I had previously put a GSA Peace dollar in my wish list at this company. When I saw their advertisement about the Gettysburg hoard, the temptation was too great! According to their website, "The Peace Dollar has always been one of the most popular coin among collectors... but they have become even harder to find in uncirculated condition in more recent years! Luckily, our team discovered a small hoard while at the coin show in Gettysburg, Pennsylvania! We purchased several bags of about uncirculated silver dollars, and what we found inside those bags was astonishing...more than a few of these Peace Dollars were still in stunning uncirculated condition after all these years!" I'm really surprised the company didn't send these dollars to a "TPG" and then sell them for "BIG BUCKS"! My antenna went up and now I'm starting to think something smells "fishy" here. Of course it's too late to change my mind. I now own a GSA Peace dollar and  a Gettysburg Peace dollar. Oh well, now I only need one from the Redfield hoard and the Binnion hoard.
     In conclusion, I had my second Covid vaccination on 6 March, so I was safe 2 weeks later. It's my hope and prayer that EVERYONE takes the shot so that America can get back to some kind or normal soon. It's my opinion that spring has sprung here in central New York. I got part of the back yard fenced in for the puppies, and the leaves are starting to come back on the trees. Enjoy the pictures and if you haven't got it yet, GET THE SHOT! Until next time my friends, stay safe, HEALTHY, and coronavirus free!
Charlie aka slybluenote
P.S.  Here's the web address where I learned about the Gettysburg hoard:
https://myemail.constantcontact.com/An-Unexpected-Silver-Dollar-hoard-from-Gettysburg--The-Uncirculated-Peace-dollar-discovery-.html?soid=1118715500305&aid=7gWA9GjFKQE

or: 
https://www.collectorsalliance.com/Default.asp