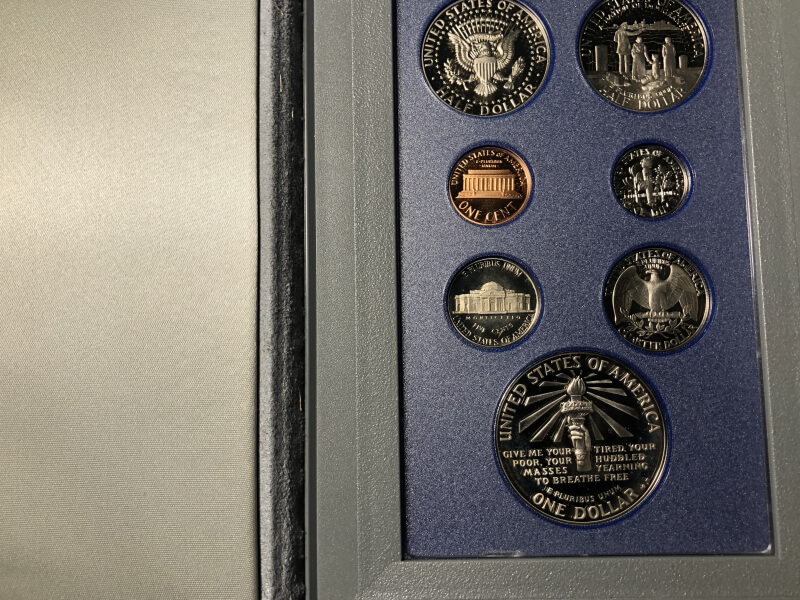 Proof Sets...Different Flavors !
Good morning friends, family, and fellow collectors!
     It's early on the east coast, but that's alright, I do some of my best work in the early hours of the morning... :-)  It's hard to determine where I'm at in learning about U.S. Mint sets. A lot of you probably already know more than I will ever know about this subject! So far, I've learned that there are 5 different flavors of proof sets. There's the regular U.S. mint sets from Philadelphia, Denver, & San Francisco. Then there are Prestige proof sets (1983-1997), Premier Silver proof sets (1992-1998), the American Legacy collection (2005-2008), and finally the Limited Edition Silver proof sets (2012-current).  So far I have collected 24 of the regular sets, and 2 of the Prestige proof sets (1986 & 1990).  Most of the proof sets I have collected so far are in my proof set collection. The only ones that haven't been posted are the bundle of 10 that I received earlier this week and the key date set that I received today which I have also mentioned in an earlier blog (1960, 1974, 1986, & 1996).
     So far, I've only ran into a couple of "snags" collecting proof sets. The first major problem was obtaining the elusive 2012 Silver proof set, which was stretching my budget for sure! I finally settled on Dave's Coins, the cheapest, at $234.19, which I considered a bargain for all 14 coins. Currently, I'm looking into the 1996 Prestige proof set which some companies are selling for up to $400. Even on ebay these sets are currently out of my reach. I'm sure there will be more bumps in the road once I start looking at the Limited Edition Silver proof sets. The 2 Prestige proof sets that I bought were for specific reasons. The 1990 features the commemorative silver dollar of Dwight (Ike) Eisenhower. As most of you know, I'm a veteran, so this set was near and dear to my heart. The reason I bought the 1986 Prestige proof set is that it features the commemorative silver dollar of the Statue of Liberty. I'm not a original New Yorker, but it's where I currently live and although I'm a migrant worker, I still claim it as my current home. Lady Liberty makes me proud to call this state my current home. Not only that, I got the set for $25 from a local dealer who runs a brick and mortar shop called BullesEye Games and pawn shop.  The 1986 Prestige mintage is  599,317, which I thought was quite low. The mintage for the 1990 Prestige proof set is 506,126 which is even lower. All in all, I really like both sets which is another reason that I purchased them.
     As you can see from the pictures I've posted, I've already done some of the learning process. I've started my catalog and have the sets that I currently have entered. After reading Bama's blog about software, I may consider this option. Since I worked as the Tables Manager in the On-Site Programmers office for the Dept. of the Army, I did learn how to turn my lap top off and on and how to apply software patches...LOL. The other picture I've posted reminds me of blues music. To me collecting proof sets is just one of many genres of numismatics! As always, stay safe, HEALTHY, and coronavirus free until the next time we meet.
P.S.  Mokie, get those Roosevelt dimes ready in case I can't find a cheaper 1996 Prestige Proof set!  LOL
Charlie aka slybluenote