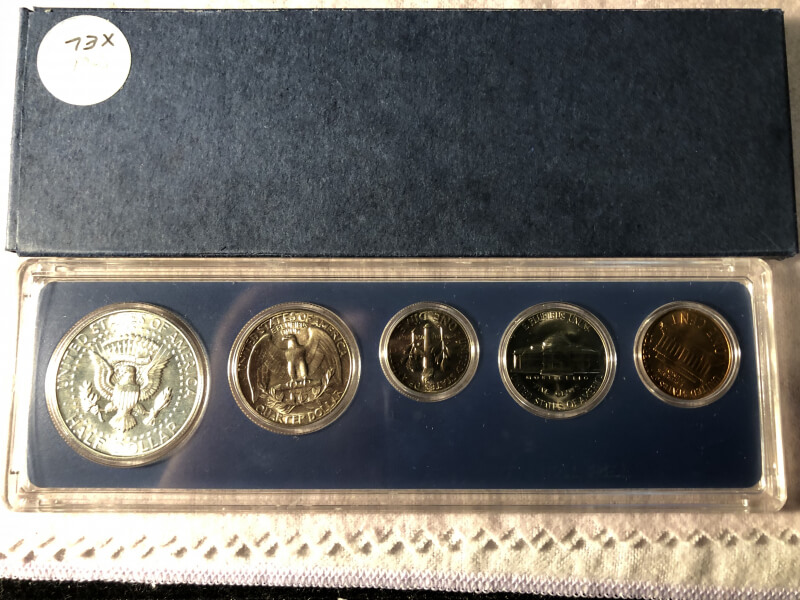 Good morning fellow collectors and numismatists alike,
     It's another beautiful day here in Central New York. It's also a GREAT day because I woke up on this side of the ground! And then I think to myself, I have to wash my mask today. I'm really not sure how much I'm liking this "new normal". This past week I received the 1965, 1966, and 1967 Special Mint sets in the mail. Like Mokie, I really like my "mail person". Not only does she deliver my mail, she's very nice to me even though she's married. She doesn't like wearing her mask either, but that's okay with me.
     While waiting to obtain my last Kennedy Half, if you haven't noticed, I've blogged several times about Proof Sets. It's going to be my next collection, but I've decided to collect them a little bit differently. I'm only going to collect them from my birth year going forward. Some of the earlier years are substantially costly and very scarce. Of course if I have the opportunity to obtain one at a "reasonable price", I will do so. I made this decision after doing some research in the Mega Red and the Guide Book of Modern United States Proof Coin Sets which was written by Mr. David Lange. You know what they say, "buy the book before the coin"! Special Mint Sets, SMS's, were issued for the years 1965, 1966, and 1967 and were all minted by the San Francisco Mint. Mr. Lange also points out that there are 2,360,000 complete sets possible for the 1965, 2,261,583 complete sets possible for the 1966, and 1,863,344 complete sets possible for 1967.
     Mr. Lange also talks about the reasoning for not issuing the normal proof sets for these years and the difference in packaging. The Treasury department is no different than the rest of the government institutions. Sometimes they just don't get things right, as in the coin shortage for these years. The packaging change in 1966 to the cardboard box and hard plastic holders was a needed change also. These sets are inexpensive to purchase, but the cost goes up due to the grading of the coins. Mr. Lange indicates in his complete sets possible numbers that the figures are for proof 66, proof 66 cameo and proof 66 ultra cameo. I'm fairly sure that my sets don't meet ANY of those requirements...  :-) 
     Please enjoy the pictures of my latest addition to my Proof Set Collection, and as always, stay safe, HEALTHY, and coronavirus free!
Charlie aka slybluenote