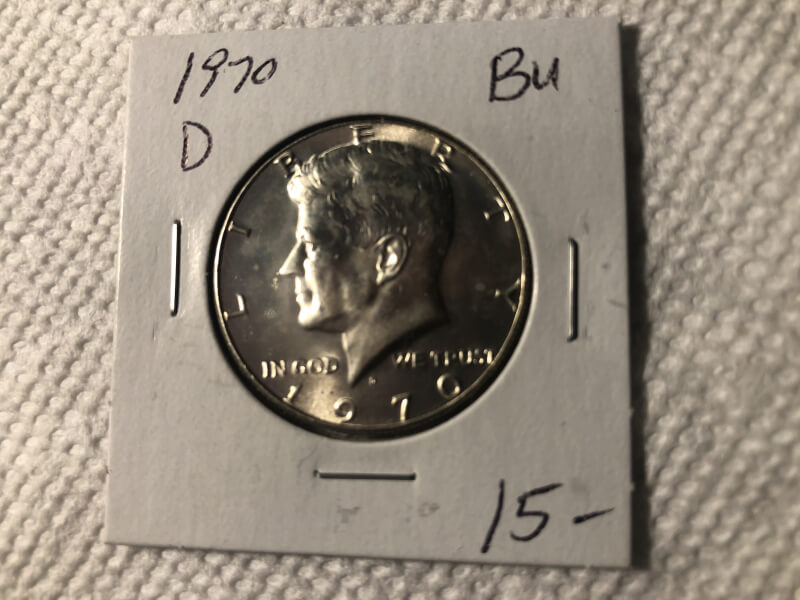 Still on the learning curve !
     Hello again friends & family,
     I know that I posted an earlier blog about grading. The struggle continues. I'm thinking this home schooling isn't working out. Grading coins shouldn't be this hard. I picked up this 1970-D Kennedy half dollar from my local coin dealer. As always, I'm looking around in the cases while Mark gets the book with the Kennedys in it. I also think that if you're a good dealer, you certainly know your customers. After I had searched the book for the years that I needed, I saw this coin on display by its self, separate from the book. It immediately caught my eye because it was a nice looking coin for the price that was on the flip. I thought to myself that this may be a prime candidate for a grading exercise to sharpen my skills. I'm considering making a check list for when I grade coins. I made a couple of errors on this attempt at grading. Number one, I should have weighed it in. Like a fighter before a fight. Number two, I should have did more research on how to identify a clean/altered coin.
     I graded this coin after a couple of days of studying it. I gave it a grade of AU-55 for several different reasons. There were a couple of light scratches in the field right around his nose. There was also what appeared to be a milk spot right under the Y in the word liberty. Also, right above the 9 in the date there's a couple of small pits. The light scratches I thin k are bag marks, no biggie. The reverse is in great shape. Nothing noticeable anywhere. There is really nice luster on this coin, which is another reason that I bought it. After several consultations with the ANA Grading Standards for U.S. coins book and A Guide Book of Franklin & Kennedy Half Dollars, Third Edition, by Rick Tomaska, I arrived at the AU-55 grade. Even after a couple of days of examining this coin, something still seemed odd to me. It has a reeded edge and it all appeared to be silver. Now I know that the composition is supposed to be 40% silver and 60% copper. When I didn't see the copper color, red flags went up in my head. This is when I should have weighed the coin. Hindsight is 20 20 though, right? It's been quite a few years since 1970 and I got to thinking, how did this coin retain it's luster? This is what leads me to believe this coin has been dipped. The more I looked at it the more that I was convinced. This is where I should know how to identify a clean/altered coin!
     All in all, I still really like this 1970-D for a couple of reasons. As stated in https://kennedyhalfdollars.net/1970-d-kennedy-half-dollar/  the mintage for this piece is 2,150,000. I also know that this is a key date for Kennedy Half dollars. Another important aspect for this year according to this article is "Any 1970-D Kennedy Half Dollars graded MS65 or higher by the major grading services are scarce and command a premium. Examples graded MS67 by PCGS and NGC are extremely rare and have sold for four figure prices."  I also have another one that is in my collection, but I like this one just as good as the one I already have.  Another thing that I considered when grading this coin, again from the article "Since all examples of the coin were issued within Mint Sets, it might be assumed that higher grade examples of the coin are plentiful, however, this is not the case. Most examples will be found with bag marks or light abrasions which will keep them below the gem level." 
     To sum things up, I can honestly say that this grading exercise just gave me the "BLUES"  :-)) Until next time stay safe, HEALTHY, and coronavirus free! As always, comments, tips, and recommendations are welcome, because as the title states, I'm still on the learning curve!!