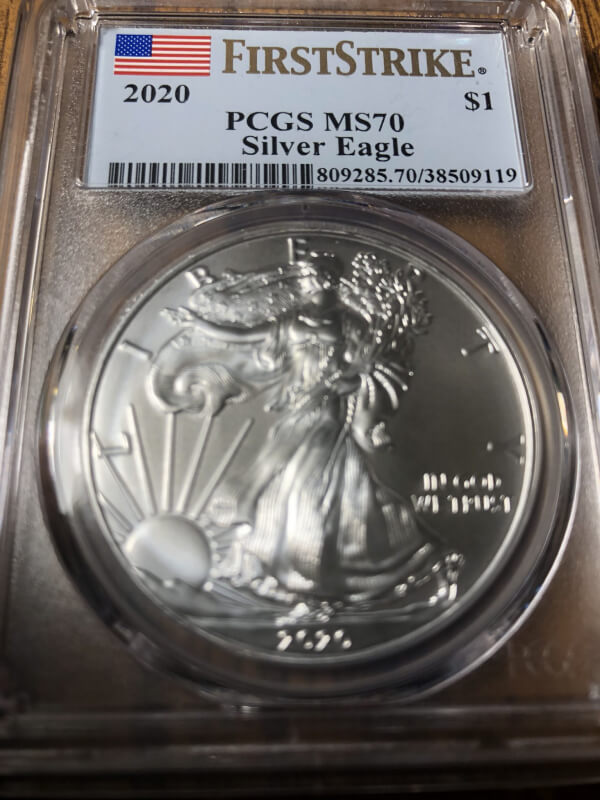 When I first started collecting coins/money I had never heard of "Third Party Grading Services".  Back in Dec. 2019when I started collecting again, I had retired and decided to "get smarter" about collecting. Below is a picture of theONLY TPGS coin that I own. I promised my buddy MikeB that I would post the picture. As I told MikeB, the reasons thatI bought the coin were I thought it was a nice looking coin, I had heard that this is the last year that the mint was going touse this design, and I could afford it. 
     My research so far indicates that you can grade your own coins. My favorite book that I've purchased so far is The Official ANA Grading Standards book, 7th Edition. I've read it TWICE and still consult it regularly even though I've onlygraded a couple of my coins. Soon I will post the first coin that I graded in my collection. I've also read about grading onthis site. My MAIN takeaway in grading is look at a LOT of coins, especially the ones that you are collecting. Now, everytime I visit my local dealer, when he sees me come into the shop, he automatically gets out all of his Kennedy Half Dollars!
     I've also upgraded my library to include The Kennedy World in Medallic Art, by William R. Rice and A Guide Book of Franklin& Kennedy Half Dollars, Third Edition by Rick Tomaska, which I've only read once. The pictures in these books is GREATand shows fine details in the coins. I will continue to research this topic. My final assessment though is "grading" is a lot likelife, with age comes wisdom. Until my next post, enjoy the beauty of the silver dollar I purchased from Gov.mint !