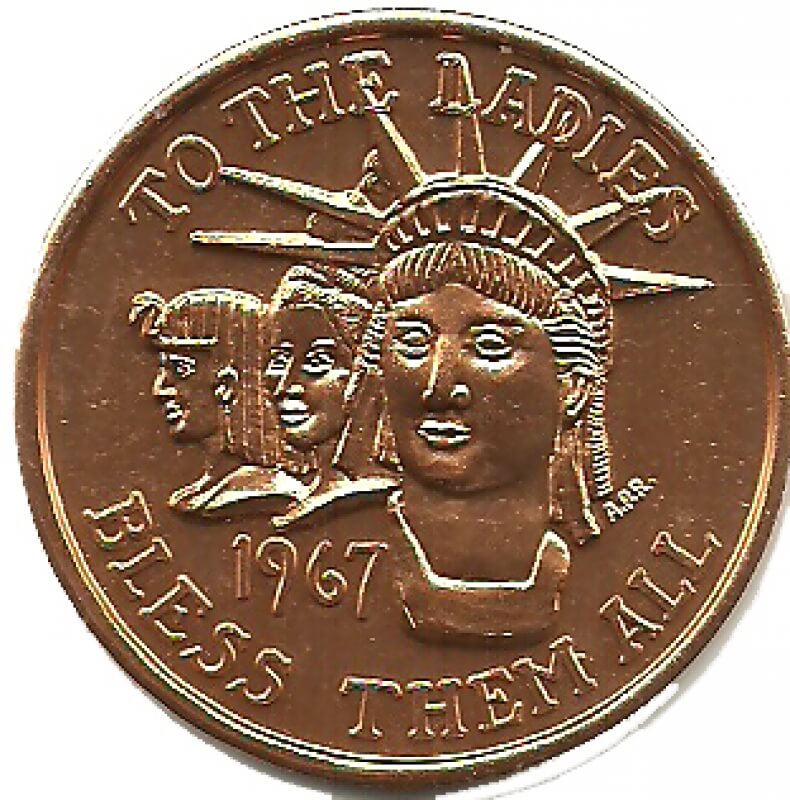 Mardi Gras Doubloons Depicting the Statue of Liberty
1967 REX MARDI GRAS DOUBLOON
Shown Slightly Enlarged
Obverse:  The undisputed King of Carnival with his crown.  In a ribbon around his head:  NEW // ORLEANS.  Above and below read:  Ì REX  Ì  KING OF CARNIVAL  Ì  // PRO BONO PUBLICO.  H.A.S. on his left shoulder.
Reverse:  The heads of Cleopatra, an unidentified woman and the Statue of Liberty.  The legend reads:  TO THE LADIES // 1967 // BLESS THEM ALL.
LMD-53 38mm (1 ½ inches))
                        Multicolored
LMD-53a           Sterling Silver 999 fine………………
LMD-53b           Antique Bronze/Silver…..……..…….
LMD-53c           Dual Colored Silver/Black aluminum
LMD-53d           Colored Aluminum 15 gauge……….
LMD-53e           Plain Aluminum 15 ga (very rare)….
LMD-53f            Colored Aluminum 10 gauge
LMD-53g           Plain Aluminum 10 or 12 gauge
LMD-53h           Colored/Plain Aluminum High Relief
LMD-53j            Copper (Reported only 6 known)…
G7-30