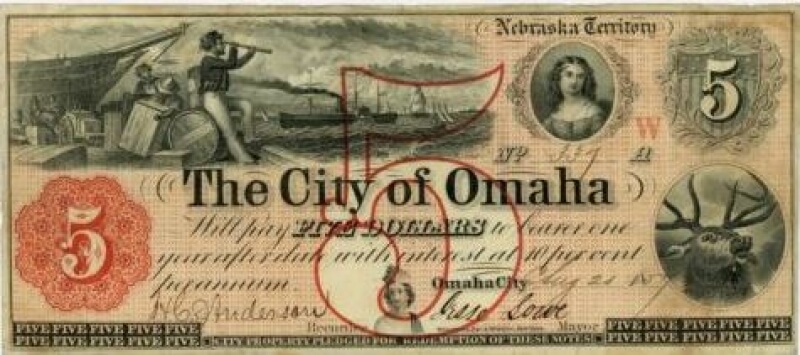 Coin Thoughts #38 By "SUN"
CITY OF OMAHA NOTES
The Congress of the United States authorized $50,000, as part of the Kansas-Nebraska Act, to build a territorial capitol in Omaha. the $50,000 appropriated was not enough to build the capitol. To complete the building, the City of Omaha issued notes for the remainder needed. George C. Bovely, a member of the city council, resolved that the mayor direct city funds and credit to the completion of the building. The resolution passed and on June 23, 1857, the council ordered $30,000 in city notes to be issued. The amount ultimately authorized was $50,000. It is interesting to note that George C. Bovey was the owner of the firm erecting the building.
The scrip was never redeemed by the City since it was issued during the Panic of 1857. The city council voted on December 14, 1857, to have a bond issued to retire the scrip. The bond issue passed on December 26, 1857; but since the City of Omaha had a poor credit rating, bond dealers were not interested and the bonds went unsold. the City auctioned off lots with the provision that these lots could be paid with city scrip. The lots sold for extremely high prices.
The notes were printed by Wellstood, Hay & Whiting in sheets of four notes with denominations of $1, $1, $3, and $5. The notes were signed by Mayor Jesse Lowe and Recorder H. C. Anderson.
Bibliography:
MCKee, James L., THE WILD CAT BANK NOTES, SCRIP AND CURRENCIES OF NEBRASKA PRIOR TO 1900; printed 1970.
Owen, Leonard M.; TERRITORIAL BANKING IN NEBRASKA, printed 1984, Central States Numismatic Society.