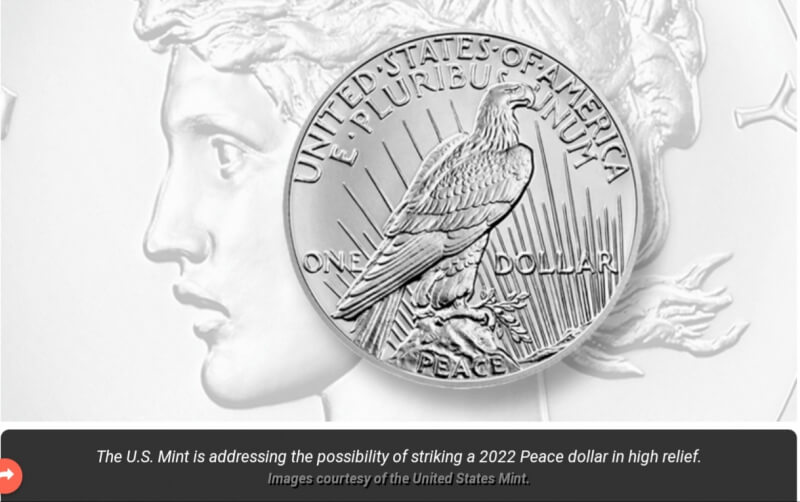 US Mint Makes Morgan and Peace Dollars an Annual Product
Novice Numismatics Blog*
Early January 2022
News Message:     
 The US Government has a lot of money, but another thing they also have is debt. Now having these two things can cancel each other out, but then little money remains, meaning they got to make things pricey to make up for the money they don't get. And the US Mint is a perfect spot to do it. We saw in 2020 the US Mint price the silver proof sets at a pretty high price of $105.00 for that little silver. But they included with the set a reverse proof Nickel, which doesn't make up for it, but it's pretty cool. Now 2021. Two Quarters were made that year, so that would be three less than the normal five. So less silver in the SPS than the year before, AND no Nickel. Price $105.00. They did not change the price despite the lack of silver and the lack of the Nickel! So, in short, they are really trying to make more money(isn't everybody?). Although most people do the same the US Mint is the hub for this suit of coins that US coin collectors really want:
United States
Modern
Collectable
Coins           
This makes it harder to get the coins you want at a lower price. You can get Old US Mint proof sets anywhere, but to get them brand new, you got to go to the Mint, unless you want to wait until a little bit after it came out when it is even a little MORE. And that's how they make extra money. This is the same. It was supposed to be a one year project, but now they are trying to make more money with these. One of the comments in the Coin World article I read said:

 The Mint is simply seeing another way to make money by striking tons of these coins which will be so commonplace, collectors will look at them and say "eh, so what, another new Peace or Morgan dollar. I already have ten of those things in my collection." 
 But there is really no way to stop it. The Mint is going to make these worth less as collectibles. It is sad but the premium you would have made for them as the 100 year anniversary coins will not be as high as more of these come on the market. The melt value will be the biggest part of its value, not the want to add it to your collection

Counter Action**:
The US Mint has done a good thing. By putting this on as a continual product collectors who were not able to get 2021 dated varieties can get the new ones at the same cost giving collectors what they want. The Mint has made opportunities to grow your collection and even make sets of Morgan and Peace Dollars. They combine what everybody liked about the old Morgan Dollars with the modern, sleek design of the OGP. And now the stunning design of a modernized Peace Dollar too, can be found at even local coin stores. They have brought more Numismatic products that can increase any collection. These products also contain silver, which will enhance the collectibility and make them go up in value. Another thing that can be attributed to this is the fact that now it's like the olden days all over again with Morgan and Peace Dollars circulating again, from collector to collector, this will make the Numismatic market bigger and better. These coins revive a much loved product and I will enjoy buying them every year,           
                                                                                                                                                                  Novice Numismatics Writing Team
*This is the first issue of Novice Numismatics, if there is any confusion
**Counter Action articles are done from a different perspective, so our readers can see differing sides of an argument
                                                                                                                                                   This article in this series is written by Novice Numismatics Writing Team