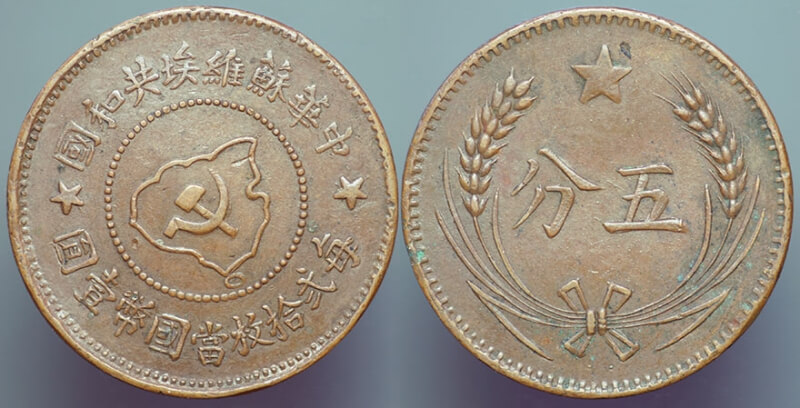 I've created a new collection showing the five major varieties of Chinese Soviet Republic 5 Cents pieces of 1932. SCWC (KM) shows only three types, plain edge, reeded, and restrike. Specialized Chinese references show the five shown here but they are not designated as reeded or plain. That's because they're all supposed to be reeded but some missed the reeding. I'm convinced, since almost all of mine exhibit some slight reeding, sometimes almost imperceptible, that they were all reeded. The mint for these was probably a temporary field mint, since these were hard battle worn times. I have about nine of these, collected back when you could get authentic Soviet items and before the Chinese started buying them back. 
Chinese Soviet Collection (link)
   The identifying feature of the real varieties is the location of Hainan Island, off the southern coast of China. Variety 1 shows the island overlapping the mainland. Varieties 2 - 4 have the island moving further from shore. Variety five, the BIG RARITY, has no island, a clear case of plate tectonics!
   Enjoy, the collection here is the only place you'll see these varieties. The other place is my Moneta Coin Gallery Museum where you can see the rest of my 10 pages of Chinese Soviet Coins:
The third variety listed is the restrike of the 1960's, after the 
Chinese Soviet Republic was no longer. I believe the Hainan Island location on the restrike is similar to Variety 3 on the authentic series of coins.