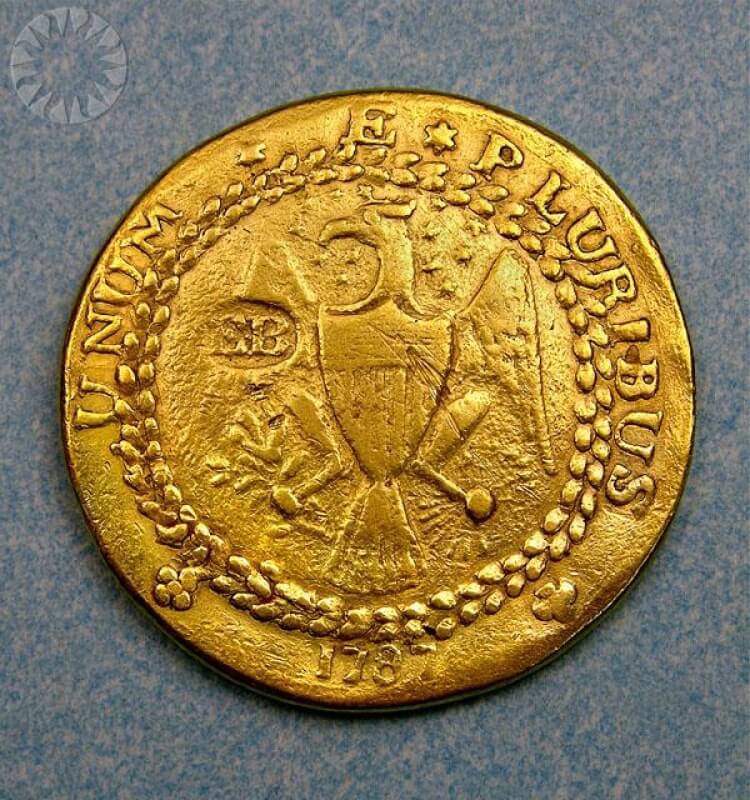 Interesting story
In 1787, Ephraim Brasher, a goldsmith and silversmith, submitted a petition to the State of New York to mint copper coins. The petition was denied when New York decided not to get into the business of minting copper coinage. Brasher was already quite highly regarded for his skills, and his hallmark (which he not only stamped on his own coins but also on other coinage sent to him for assay [proofing]) was highly significant in early America. Brasher struck various coppers, in addition to a small quantity of gold coins, over the next few years.
One of the surviving gold coins, weighing 26.6 grams and composed of .917 (22-carat) gold, was sold at public auction for $625,000 in March 1981.
On January 12, 2005 Heritage Auction Galleries old all three varieties of Brasher Doubloons as part of their Florida United Numismatists U.S. Coin Auction, Platinum Night Session. The coins realized $2,415,000 for the New York Style EB Punch on Wing NGC AU55, $2,990,000 for the unique New York Style EB Punch on Breast NGC XF45 and $690,000 for the rare but less iconic Lima Style Doubloon. The unique Brasher Doubloon, the first gold coin made for the young United States, was sold December 2011 by nationally known rare coin dealer, Steven L. Contursi of Laguna Beach, California, to Certified Acceptance Corporation (CAC) of Far Hills, New Jersey. An undisclosed Wall Street investment firm subsequently has purchased it from Blanchard and Company of New Orleans, Louisiana for a record price of nearly $7.4 million, the most money ever paid for the historic rare coin.
The coin was the subject of nefarious goings on in Raymond Chandler's Philip Marlowe mystery The High Window. It is also mentioned in Lawrence Block's Bernie Rhodenbarr mystery The Burglar Who Studied Spinoza and John Bellairs's The Mansion in the Mist.
The last information about The Brasher That I have found.
Ephraim Brasher was a talented goldsmith who petitioned New York State to mint a new set of coins in copper in 1787. But the state legislature didn't want Brasher's work, and didn't want copper coins. Brasher ignored the state's decision and went ahead minting coins anyway, mostly in bronze—but a precious few in 22-carat gold. One of these was a doubloon bought by a Wall Street investment firm for $7.4 million.