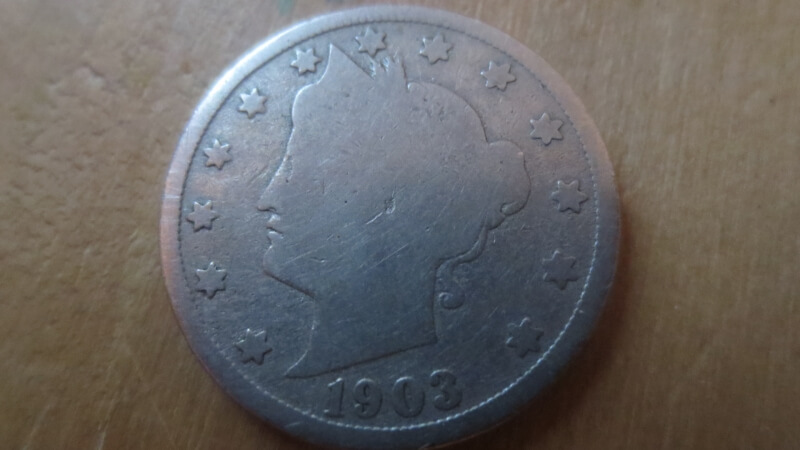 When I was relatively new to coin collecting, I came up with the idea of roll hunting, and started with $20 in pennies. I found 10 wheat cents and a few canadians, which inspired me to do more roll hunting.
I have no idea of how it happened, but in about one month I had $100 for roll hunting. I finally got my first box of nickels, in which I found one Buffalo Nickel and 2 1943-P War Nickels, including my best ever War Nickel. I rolled all 2000 coins up again to bring them to the bank in dimes. This time I found a clad 1968 Canadian Dime and a VF-20 1948 Roosevelt Dime. I was very happy, and got another $100 in dimes, but this time I did not even turn up a canadian dime.
I decided to stick with nickels, because there was Silver, Buffalo's, Rare Dates, San Francisco's, and maybe even a V Nickel somewhere in the bank.
I finally found that nickel: An AG-3+ 1903 Liberty Head Nickel; I also found a buffalo nickel and a 1939: A Trifecta!!! I wish I had found a War Nickel, because I would've had the Grand Slam!!! I have searched about $200 in pennies and about $4000 in nickels: 100,000 coins!!! I have found 20 war nickels, 10 buffalo's, 1 V Nickel, 400 wheat cents, and a few more coins.
I have heard of amazing finds being found like 1880's Indian Heads, 1800's V Nickels, and Dated 1910's Buffalo Nickels!!! I haven't found anything that amazing, but I do have I really good find!
Enjoy Coin Collecting and Happy Hunting Everyone!!!