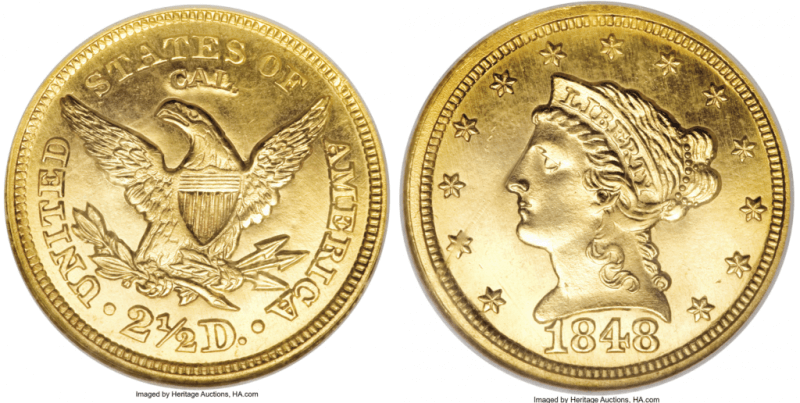 The 1848 CAL Quarter Eagle
On January 28, 1848, James Wilson Marshal found some small yellow metallic flakes by the Sutter's Mill in Coloma, California. Those few flakes ignited one of the largest gold rushes ever - the California Gold Rush.
Fast forward to December 1848. California Governor Colonel R.B. Mason sent roughly 230 ounces of Californian gold to William L. Marcy, the secretary of war. The precious metal was then sent to the Philadelphia Mint with the instructions from Marcy, "If the metal is found to be pure gold, as I doubt not that it will be, I request you to reserve enough of it for two medals ordered by Congress and not yet completed, and the remainder, with the exception of one or two small bars, I wish to have coined and sent with the bars to this department. As many may wish to procure specimens made with California gold, by exchanging other coin for it, I would suggest that it be made into quarter eagles with a distinguishing mark on each" (Heritage Auctions).
These coins were struck from the 228 ounces of gold that arrived December 9, while the medals, featuring Zachary Taylor and Winfield Scott were struck from gold arriving the day earlier.
These quarter eagles are extremely normal looking at first glance. And they are normal, except for one small added detail -the abbreviation, "CAL." above the eagle. It is thought this abbreviation was added by hand while the struck quarter eagles remained in the press as the obverse of the coin is not at all flattened. This process was slow enough that Mint Director Patterson was asked by Marcy about the long time to complete the project and responded that stamping each coin with the "CAL." Logo was time consuming.
It is thought that a total of 1,389 quarter eagles were struck with the added "CAL." mark. Q. David Bowers noted that these coins "were available at face value to anyone desiring them" (NGC). But even then, only two or three dozen numismatists learned about these coins around their time of issue and added the coins to their collections. Coins that were not purchased at face value by the public entered circulation according to NGC, shown by how the pieces range from VG to MS. While some of these quarter eagles have been called "Proof" before, none were struck on the dies that 1848 proof quarter eagles had been struck on. It is estimated that somewhere between 150 and 200 of these eagles survive today.

Forgeries with a fake "CAL." stamped into normal 1848 quarter eagle are common, but can usually be detected by the flattening of the obverse opposite the punch. However, the location of the "CAL." varies on the reverse in relation to other elements, so authenticity can not be determined by location of the punch. 
Bibliography:
"1848 $2.50 CAL. (Regular Strike)." PCGS Coin Facts, www.pcgs.com/coinfacts/coin/1848-2-50-cal/7749.
"1848 'CAL' Liberty Quarter Eagle." Liberty Quarter Eagle | 1840-1907 Liberty Quarter Eagles, 17 May 2019, libertyquartereagle.com/1848-cal-liberty-quarter-eagle/.
"Fact Sheet for Sale #1298, Lot #3841." Heritage Auctions, Aug. 2019, coins.ha.com/c/fact-sheet.zx?saleNo=1298&lotNo=3841&ic3=ViewItem-Auction-Open-Action-PrintFactSheet-071515.
"NGC Coin Explorer." NGC, www.ngccoin.com/coin-explorer/liberty-head-250-1840-1907-pscid-57/1848-cal.-2.5-ms-coinid-17749.


(Photo from Heritage Auctions)