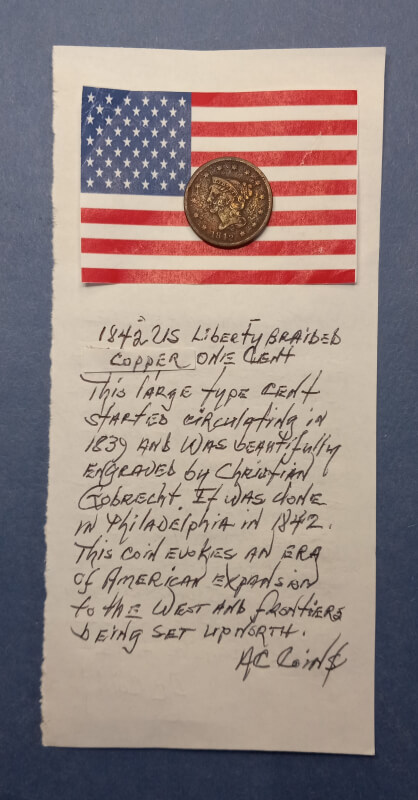 1842 US Liberty Braided Cent
An old full copper cent, launched in 1839 initially, this historically attractive one cent coin has been sought, and still is, by many enthusiasts Worldwide.  

The Liberty Braided cent I show here had a peculiar feature for this year of 1842, it was minted with the year in large and small engraved numbers. This detail made them eventually an attractive item for collectors. 

America was becoming robust, territory extending its frontiers until reaching the Pacific and demarking its boundaries to the North and South. Cities known at that time were struggling to improve its services, economy and urban projects. Universities and major colleges were founded, and train routes were improved and extended. President William Henry Harrison died in April 1841, his Vice-President, John Tyler became the tenth US President until 1845. 

An evolution of another great American history chárter, I present my circulated 1842 (large numbers) US Liberty Braided cent. 

In my own words.
For further details about this item and others please visit my collections section.

AC Coin$
Freedom. "Never give up."
"In God we trust."