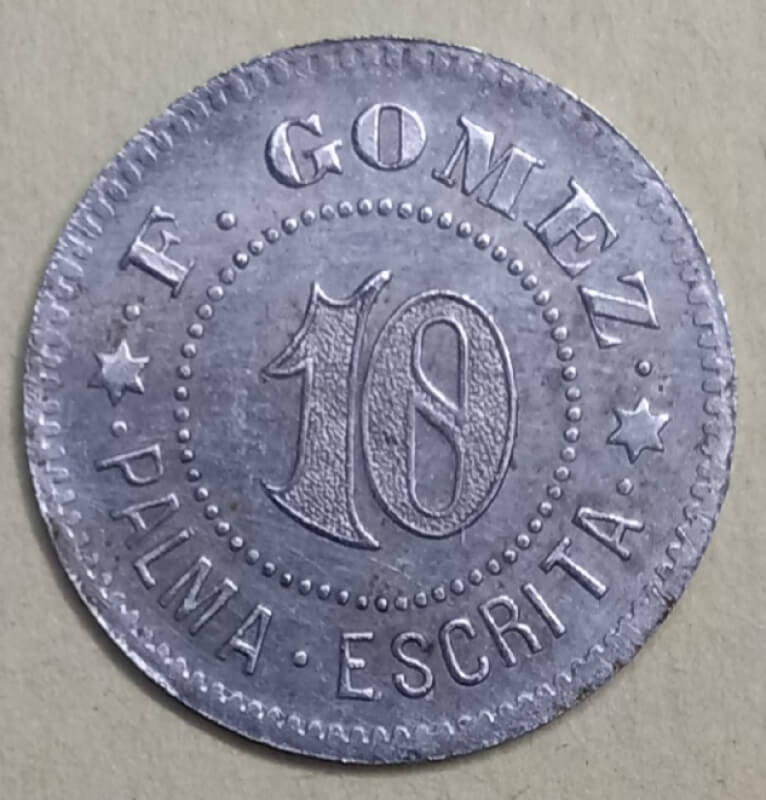 1910 Puerto Rico Farmer's Workhand Token
When the United States of America administration took over the island of Puerto Rico, around September 1898, it faced an unstable economy and precarious infrastructure, both inland and at the larger cities.  Within the first 22 to 32 years of American presence in the once held Spanish stronghold, this type of token or menchant's coin circulated in various shapes, sizes and even non-round forms. Its dimensions fluctuated from 19mm to 25mm at most, and usually made of tin or rarely in aluminum, not many were struck in copper. Even though the one shown here is from 1910, this specific type was circulating from as early as 1900, mostly struck in the back of a warehouse at a larger city in the island with subsidiaries for each merchant or farm dealer.

Inland, specifically within the mountain towns, agriculture and the selling of necessary goods was practically the two aspects moving people in and out of farm sustained communities. Those who stayed, faced dependency on major "Hacienda" owners as laborers and non-payed workhands. Being on a non-pay status meant to depend on running food certified bills or food notes and, within more organized farms, tokens with various denominations pegged to larger commercial providers or wholesale dealers (who at most instances were well-to-do Spaniards who befriended American investors and government officials.)

This is a 1910 token worth 10 cents, pegged to F. GĂ"MEZ a merchandiser tied to the "Hacienda Palma Escrita" in the municipality of Las MarĂ­as, Puerto Rico. The town is located in the Western Central Mountain range. This area is known to produce Valenciana type oranges, coffee and other citric fruits. With this token, a laborers' wife was able to acquire flour, sugar, dry goods and in rare cases meat. Prizes were that low, poverty was extremelly high. This products were also bought at the merchandiser's store facility usually or conveniently located within the entrance of the Hacienda or plantation. It was a round business.

This is historically relevant as a monetary item representation, a token with buying power from the very beginning of the twentieth century. It is a vintage non-financial item  from a territory of the USA as it worked towards a better future.
In my own words.
AC Coin$
Freedom. "Never give up."
"In God we trust."