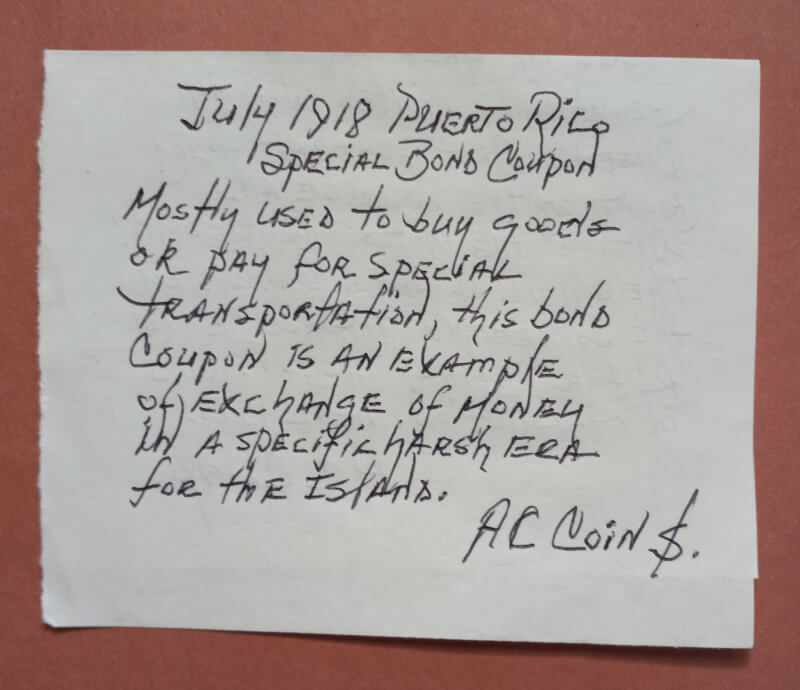 July 1918 Puerto Rico (US) Gold Redeemable Coupon
Special bond coupon:
July 1918, City of Arecibo, Puerto Rico
Signed by the Mayor and the City Secreary
Pegged to Ceballos and Company of New York City

When the island of Puerto Rico became a United States of America territory in 1898, a new phase of decisions on commercial investment was put in place. Specific financial demands of cities and smaller towns in the island required commitment of resources from US based companies, Puerto Rican cities' administrations and people,á citizens who believed they should take part in the growth of the local economy regardless of their limitations.á

An item of monetary value, the cash bond coupon shown here was issued by the City of Arecibo, Puerto Rico in July 1918 for $30 and pegged or guaranteed by a then New York City, NY based "Ceballos and Company". Item or coupon #68 was cashed out, the center hole perforation claims the buyer eventually redeemed it. Its value is not only historical, but social and moral since it was launched to move the investments and acquisitions of goods around the city of issuance and the guarantors good faith. It was also used as a buying coupon or ticket worth its face printed value.


Its small size (1" x 2 1/4") makes it uniquely collectable and represents an effort of financial survival around the harsh times of World War I.

Larger Puerto Rico-USA stock bonds and other financial instruments have reached our National Archives as permanent items of value since the island became part of the US territories.
**Even though the Ceballos & Company of New York no longer exists,á my research did find there is a trucking enterprise carrying that last family name and several prominent professionals still living in New York City. It is possible, the trucking company now serving interstate New York and other parts of the Nation, is owned by a distant or close relative of the original "Ceballos Co." founder. Trying to contact them have provee unsuccessfully frustrating. Thanks for reading my blog and appreciate your comments.
In my own words.
For further details about this item and others please visit my collections section.

AC Coin$
Freedom. "Never give up."
"In God we trust."