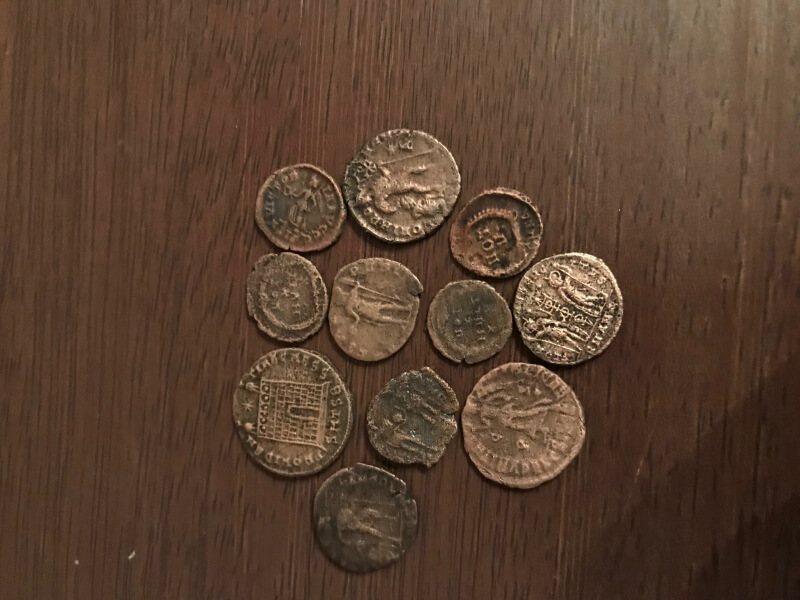 An inexpensive way to purchase Ancient Coins is to purchase them unclean.  This means to purchase them as they look immediately after they are literally dug out of the ground.  These coins are often heavily encrusted and difficult to see.  The coins in this condition must be cleaned in order to identify them.  
Cleaning Ancient Coins is a very long process and requires a great deal of patience.  The process I use begins with soaking my Unclean Ancient Coins in distilled water for a month.  Each week I scrub the coins with a toothbrush and replace the distilled water with fresh distilled water.  After a month, I look to identify each coin.  If the coins are still too encrusted to identify, I then repeat the process just described for another month; scrubbing the coins weekly with a toothbrush and replacing with fresh distilled water.  At the end of the second month, if I still cannot identify the coins, I repeat the process, except instead of distilled water, I soak the coins in Pure Olive Oil for a month; each week scrubbing the coins with a toothbrush and replacing the old Olive Oil with Fresh Olive Oil.  If after another month I still cannot identify the coins, I use electrolysis.  
Electrolysis
Although all the experts advise against cleaning coins as it could seriously reduce their value, sometimes, at least with Ancient Coins, where there is really heavy encrustation, it is the only way to remove enough to reveal any detail. There are a number of acids and chemical preparations that can be used, but as I am not prepared to handle these corrosive substances and the results often strip off all the antiquity from the surface, electrolysis is my preferred method.
To start with you need an electrolysis unit. The cheapest way, providing you are reasonably confident, is to build your own using cables, alligator clips, a spoon, a paper clip, and a 9-volt battery.  There are dozens of instructions on YouTube to help you, but basically, you cut 2 cables to 12-inch lengths, strip back about an inch of insulation from each end and attach crocodile clips to each end. All you then need is a plastic container, a 9-volt battery, a paper clip, a spoon, distilled water, and a suitable electrolyte and you are ready to go.
Fill the plastic container with distilled water and stir in a teaspoon of bicarbonate of soda until dissolved (you can use ordinary salt but with that, the process results in the release of chlorine gas which can be harmful if inhaled). Attach an old spoon to the positive wire and the coin to the negative wire and suspend both in the electrolyte making sure they cannot touch, and only then attach the other ends to the 9-volt battery. (If you are not sure which is which, simply dip both clips into the water, the one with the most bubbles rising from it is the negative). You can attach the coin directly to the crocodile clip but to prevent unnecessary damage I bend a paper clip into a cradle to support the coin and attach that to the crocodile clip.
I let the process work for about 10 minutes, switch off the power, remove the coin and brush it with a toothbrush to remove any loosened deposit then repeat the process until I have removed as much as possible. With most encrustation, it can take 20-30 minutes in total to achieve a satisfactory result.
The variables are the power of your battery, the strength of your electrolyte and the degree and type of encrustation. A kitchen timer makes sure I don't lose track of time! My greatest success was with 11 Roman coins (See pictures below) that were so badly encrusted that I thought they would never be clean enough to identify them. I put them through the process individually and in three sessions each, I managed to remove all the encrustation and reveal the details beneath. Please note that some coins may be in such poor condition that you could end up destroying them in the process rather than improving them, but that is the risk you have to be prepared to take. So far, that has not yet happened to me, but, a couple of the coins have a great deal of pitting on the surface, which is an indication that I ran the electrolysis too long.   I hope this is helpful for those interested in Ancient Coins.