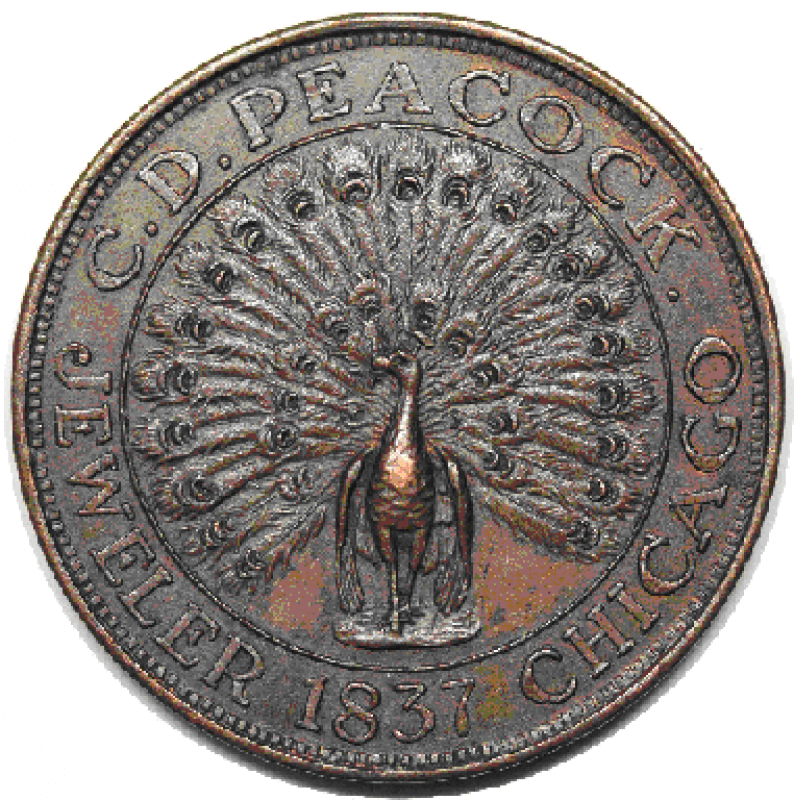 Another Round Please!
The statement sounds a little bit like another "Ism" doesn't it!, like alcoholism. 
My family has been telling me for years that I exhibit some of the same traits that categorized an addiction. 
Things like;
1 - Seeking nonconformity. Your views of about what is collectable isolate you from your peers.( define peers )
2 - Your irresistible urge for just one more. ( OK, but I like to call it collecting )
3 - A lack of Patients. You see it, you want it, and you want it now. ( So what's your point? )
4 - Denial. ( But that's where they are wrong. )
I don't have an "ISM ", I simply have this drive that tends to suck up most of my time and money.
                                                               ( Shhh. It's not real money )
So my new round has been touted as being a Hard Time's Token, and I guess it is because it bares the date 1837.
But it was not made from the time period of the Hard Times Tokens.
It's a store card, and the 1837 is the date the establishment was founded.
There is a lack of listing of it in any of the readily available catalogues because these "business cards" were created in 1900, 1902 and 1906.
It was hard to find any reference that could validate the offering, but I keep searching.
The first reference to it was from it's association to a Rulau catalog.
But I was not going to spend half the asking price of this Peacock on a catalog just get a picture.
I eventually found 2 NGC examples of this HT M-23 on their population report.
One was MS 62, NGC # 4217527-009 and another a Ms 63. .
One sold in 2006 for $69 and another, Item # 2313789, Sold on Dec 10 2017 for $162.
Another Raw 62 brought $275 in their January 2016 auction.
Those 2 slabs along with NGC's population report was all the proof that I needed to justify the purchase.
I did not need the Ralau catalog to see prices that are based on the hopes of resale.
I won't sell my "ISMs".
What now fuels my collection is a desire for detail, diversify, and patina.
To me, this item has it all.
I have since found an article by Joseph Schmidt and George Owen in the April 1980  "TAMS Journal "
The retail establishment was founded by Elijah and C.D. Peacock in 1837, and the tokens were struck in 1900, 1902, and 1906.
The first 10,000 coppers ( and 4 silver pieces ) were from dies prepared by Gorham Mfg.co. and their obverse dies were used on the 1900 and 1902 variety, plus all reverses of the series.
In 1902, 7,750 coppers and a single silver piece were struck, and the date was moved from the inner circle on the Peacocks body, to the border below. ( as is on this piece )
Both are of the coin flip variety.
This 1906 example is of the final variety of 10,000 coppers and a single silver piece, and is a medal flip.
The article goes on to state that this " Somewhat Inferior Die Work" (  was that a TYPO ? ) ( Who's eyes were they using ? ) may bear out the belief that the company ( of Jewelers ) engraved this die version, as the Gorham company was not called upon to prepare it.
After all, I am the only one it really has to please.
Keith
Taler 63