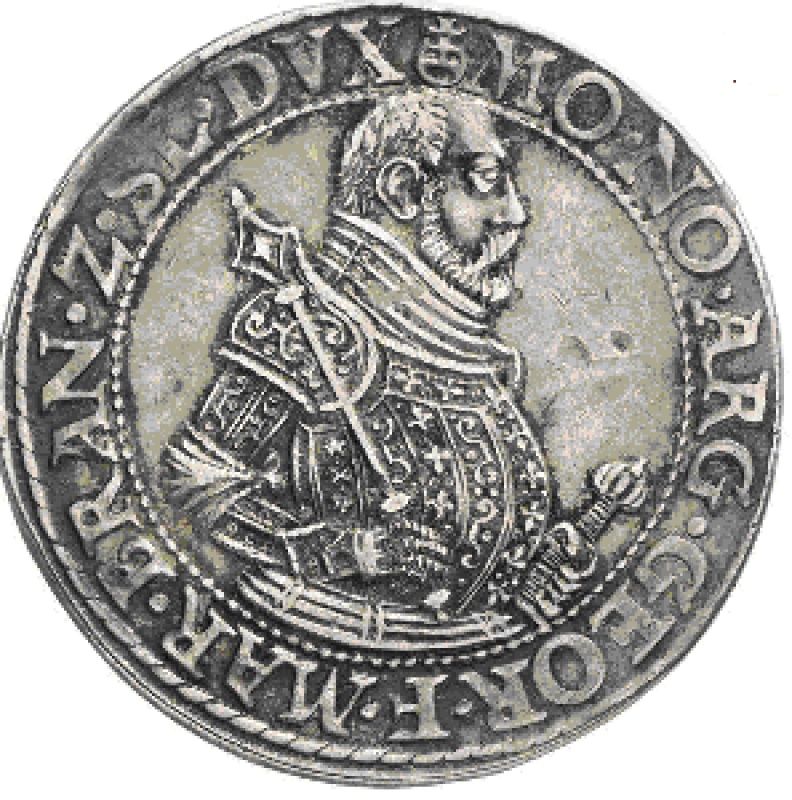 Thaler's - Romancing the Tone
Romancing the Tone 
I try to stay away from collecting coins with a bust on them, because I'm an older collector, and because I see that globally, each countries tone has changed. 
It use to be that coinage were minted as a way to bring people together by focusing on the countries ideologies with symbolic images of its heritage. But ( in this country alone ) all of those symbols have, slowly been replaced with the uncountable clad souvenirs of just 5 politicians, even though there are 350 million of us.
Even Gilligan eventually got tired of collecting the cocoanuts.
In the pages that follow you might find some inconsistencies, and that is because I am condensing the stories to help make it a quick read. 
For me, collecting Thaler's has become a waiting game for the timing of affordability to cross paths with my short list of the coins that may only come to auction every few of years.
And as I see it, there are two types of bidders at auctions. One is the professional salesmen who measure value thru their profit margin, ( as I see that many of the exact same coins get re-auctioned the a few months later ) And the other type of bidder, like me, is the end collector who does their homework, and is prepared to force the issue of possession.
One of the first Bust Thaler's that caught my eye is this 1588 Jagerndorf.
This Taler shows George Freidrich (Joe Blow) at the height of his physical appearance. This Dav. 9327 variety was made from 1586 - 1592, and this version in particular, with the paisley armor and the Floriated cross and shields on the reverse, is what makes it desirable to me.  It's still on my radar, and I have been waiting for 10 years for my affordability to cross paths with an auction
The second Bust Taler that I want to talk about is this 1567 Pfalz.
Dav 9631
This offering that is shown to be almost facing you is that of Friedrich 3rd.
Along with other attractive symbolisms like swords, orbs, and embellished suits of armor, there is the obverse helmeted beast and shields. All are things that you can clearly see because of its NGC AU 50 grade.
Like all Talers, you can see the beauty of the coats of arms. But when you learn about what the designs on talers actually mean, you can see the colors. Each and every pimple, horizontal hash mark, or vertical line spacing has a color reference, and it can even be seen as being copied on us coins. Look at the design on the back of a capped Bust half dollar. The Red, White and Blue colors that are associated with the shield are the same designs taken from the history of Talers. Vertical lines and their spacing are red and white,. Horizontal line spacing is also an attribute of the color blue.
The flag of Bavaria ( lower right obverse wavy triangular design ) it is blue and white.
To me Talers are not like my other typical buy and stash away coins. Talers demand research from their admirers as they quickly turn themselves into an addictive education.
The 1954 book, "Germanic Coinages ( Charlemagne through Wilhelm II ) " by William D. Craig, is where you can find a listing of the types of Crowns, Coats of Arms, and what the patterns mean in terms of color.
Early Talers are not perfectly round, and I have not found one of these Thalers for the 1500's that was struck from 3 to 9 or 6 to 12 O'clock either. In my opinion, these early coins do not display as well in PCGS holders as they do in NGC holders, and I say that because the NGC slabs inner membrane seems to conform to the coin being held rather that demanding a symmetrical diameter. I have see too many PCGS holders randomly overlap the display of these 40 to 44 mm coins. I know its not suppose to be about the slab, but sometimes it is, and
for me, the overlapping is enough of an eyesore that I will have NGC re holder the offence.
Before you start collecting Thalers, you should at least get a copy of " The Standard Catalog of German Coins 1501 to Present" ( If you reach back into the 1500's that is )
Because many of the German States that made up the " Holy Roman Empire " as they like to be called, seemed to always be at war with someone, and as such the kingdoms were constantly amending their territorial possessions, there are almost an endless number of designs that were minted.
Hundreds of Germanic Kings, One Austrian, Hapsburg Emperor.
The next offering I want to talk about is Emperor Leopold - The Hog Mouth
2 Taler
 I am sure no one called him Hogmouth to his face because Leopold was the emperor in his time. This circa 1691 coin is one of the first Talers that has a single headed eagle.
Double headed or Imperial Eagles are a statement to fact that church and state were one in the same.
Even Emperors needed the support of the Pope in earlier times, but this one shows Leopold as the only ruler.
Emperors always had the largest army, and the Papal recognition was needed in order to legitimize their rule in a time when Catholics fought Protestants who fought any one else's belief for dominance of the lands.
The hog mouth ( or Hapsburg Jaw ) was thought to have the result of 500 years of inbreeding.
It was their way to stay in power and keep their piece of the world pie.
I won't attack my uncle's lands because,  as in this case, Leopold's first wife was also his 2nd cousin, and niece.
And even though she was an avid rider, she died while riding her horse, or so history records. Oops !
This 1616 offering is an Austrian Thaler of Maximilian, Grandmaster of the Teutonic Order.
This type of crown denotes the rank of Duke, but the 6-9 O'clock abbreviation on the bust states Arch Duke of Bavaria.   Perhaps at the time of minting, he was only a Duke in the other 4 other houses in the coat of arms.
    .
In 1632 Augsburg Germany, is this Thaler devoted to the Swedish General / King
Gustav Adolphus and was minted because Augsburg Germany fell under Sweden's rule.
He started out his defensive campaign to protect Sweden from the advances of the Hapsburgs, and this "Lion of the North" tore through Germany as he introduced them to the Blitzkrieg of his mobile artillery.
But when this hands on General Died in battle,
His 6 year old Daughter became " KING " of Sweden.  

This 1640 Swedish RIKSDALER shows Christina at age 14.
She did not seat the throne until she was 18, and since her father was known as the lion of the north, Christina soon became know as the Minerva of the north, or the Girl King.
Multilingual Christina enjoyed the company of intellectuals such as Rene Descartes ( I think, therefore I exist ) and in a line taken from her diary, she thought that mankind would one day surly visit the stars.
She did not submit to a marriage in a time where all possessions became that of the husbands, but she later abdicated the throne to her cousin.
She turned Catholic in a time where the changing of one's religion was punishable by death.
Hummm, where have I heard that these past years?
She is also one of the few, "non clergy "that is buried at St. Peters Basilica in Rome.
Fort Christie Delaware was once a Swedish settlement, and is named after her.
Lastly, for this Bust Taler article, I want to show an easily attainable coin.
The 1780 Austria Maria Theresa.         

It's not really made in 1780, as over 800 million of these bullion coins were made for trade with the Middle East.
800 million of these ( Taller - not Shorter ) is on pace with the number of Morgan silver dollars that were minted over the years, and as such, much like the U.S. Morgans, they are not a rare design.
 Because they are not promoted by nationalistic marketing efforts, you can get a nice one for around $ 35.
They have a patterned edge, a design like over lapping leaves.
Maria Theresa had 18 kids.
One was Maria Antoinette.
But that's another branch of the endless stories that Talers tell.
Boy, the front and back of these coins do not line up like they do on my original posting.

Keith