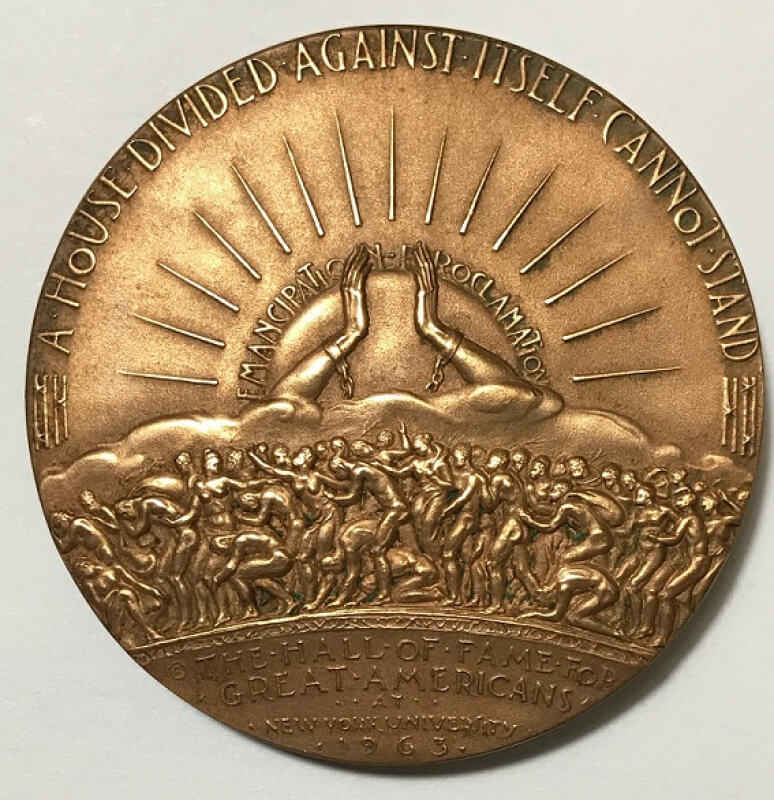 A beautiful Lincoln's Medal
Recto depicts a right-facing bearded Lincoln with "LINCOLN" wrapped around upper rim, "1089/ 1865" to right of profile. "With malice toward none with charity for all" al left and right of neck and facsimile signature beneath. "Name of engraver (Anthony De Francisci) appears miniscule just below image.
Busy verso shows a crowd of just-freed nude slaves left to right across the center, some kneeling and others with arms upraised, with a large rising sun in background and a large pair of arms with broken chains. Around the upper portion of rim it reads: "A house Divided Against Itself Cannot Stand", while below the crowd of slaves it reads "The Hall of Fame for/ Great Americans/ At/ New York University/ 1963"
Lincoln was among the first group admitted to the Hall of Fame in 1900. Medallic Art Company issued medals for 96 of the 98 inducted into the Hall of Fame, and Lincoln was the second issued.