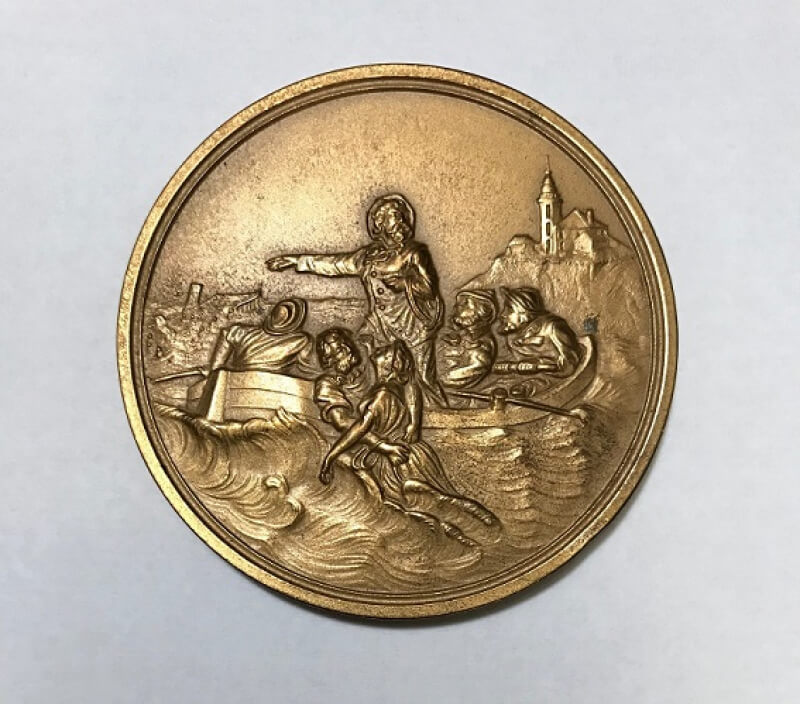 Metis Shipwreck Lifesaving Medal
The New York-built screw steamer METIS of the New York and Providence Line was in collision with the schooner NETTIE CUSHING off Stonington on the night of August 30, 1872 during a heavy gale and drenching rain. It was first thought that the steamer was not much damaged and she spent some time looking for the schooner. However, it was later discovered that she was leaking badly and although headed shoreward, she never made it and sank amid great confusion, mishandling of lifeboats and other mismanagement. Fortunately, the hurricane deck of the steamer floated off and served as a life rafe. Captain J.S. Crandall of the Watch Hill, R.I., Lifesaving Station sent out a lifeboat and rescued 17 persons from the water. His fishing boat was also sent out and rescued others. Meanwhile the shore near Watch Hill was strewn with wreckage of the steamer and those who were able to float themselves in on boxes and other wooden part of the ship. There was heavy loss of life.
Congressional medal was authorized February 24, 1873 to be presented to the Captain and 9 others for their rescue of 32 persons. The original medal was designed by William & Charles E. Barber.
The obverse shows a lifesaving scene. A man is standing in a boat, a coil of rope under his left arm, he directs oarsmen with his right hand to pull for the wreck of the Metis. One of the men in the boat is lifting a woman from the sea into the boat.
The reverse bears the legend 'BY RESOLUTION OF CONGRESS, FEBRUARY 24, 1873. With the inscription 'TO [blank] FOR COURAGE AND HUMANITY IN THE SAVING OF LIFE FROM THE WRECK OF THE STEAMER "METIS" ON LONG ISLAND SOUND, AUGUST 31, 1872' inside a wreath.
(Reference: Catalog from Mariners' Museum and Park)