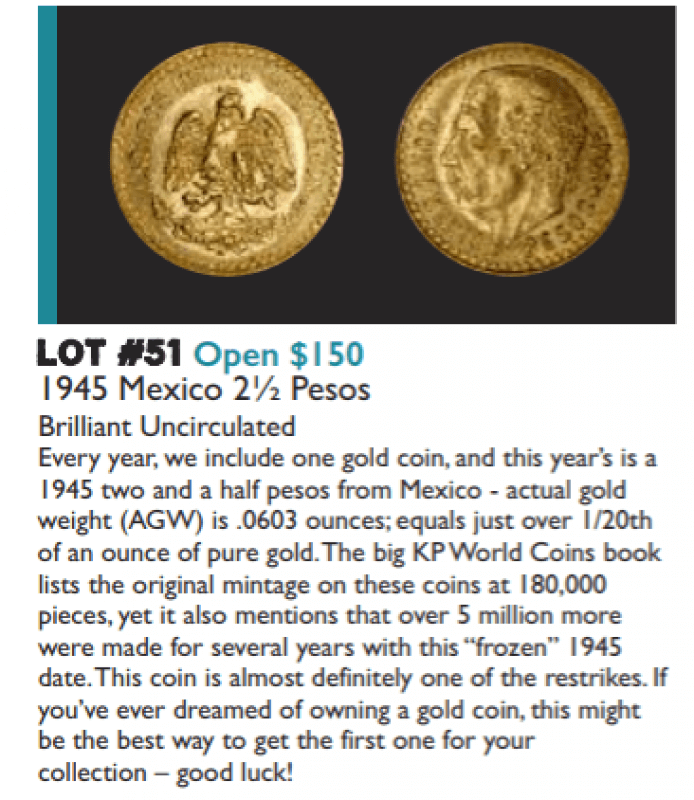 Your One Stop Shop Today For All Things YN
Today's the day! This is the blog where you can comment about all the news and notes that I will be updating live in this blog. You can watch the auction live @ https://www.youtube.com/watch?v=i4FjRhrXjkM. Here I will update the important news and updates like who gets the gold coin, who's doing well, and other things. Thank you to all who have donated their coins, currency, time and money to this auction. YN's today all over the nation thank you, because without you, today would be impossible. Enjoy the auction!
Updates:
10:00 A.M. EST 2 hours to go, if you're interested in seeing the lots click here: https://www.money.org/uploads//%5BNEW%5D%202018%20YN%20Auction%20Program_9.pdf
As always a gold coin is on the line, This year it is a 1945 Mexican 2 ½ gold pesos at lot #51 after halftime. Stay tuned. (Picture below)
11:43 A.M. EST 17 minutes away from the auction. The link for the auction is on the front page or just click here:
https://www.youtube.com/watch?v=i4FjRhrXjkM

17 currently watching!
11:57 A.M. EST A lot of rookies in this year's auction. I saw 5 1st years, 2 2nds, 2 3rds, 2 4ths. Good sign for the growth of the hobby!

12:34 P.M EST A lot of bids going on right now as some YN 's are going hot out of the gate. Over 50 people watching consistently! New record!
1:02 P.M. EST A lot of YN's still holding out waiting for the right moment to strike. Reports of many people with over 1,000 YN dollars leaves us with an interesting storyline heading into the meat of the auction. Nothing major happening as of late but stay tuned for more!
1:08 P.M. EST Some fun quotes from YN's:
999 Kevman: "The Lots are selling fast. bid, bid, bid.
Coin King 15:"this auction is a great time for all those who participate, thanks to all who made this possible."
Mihir K: "Too much calling going on; just be well prepared, bid and be surprised. That's the fun of it."
UPDATE: 53 registered bidders officially.
1:15 P.M. Someone just got ejected from the auction for not registering and not cooperating with the auctioneers. Not good for him, but definitely well deserved.
1:22 P.M. EST Favorite NFL Teams of some YN's
Stay tuned for some more interview questions!
Coin King 15:Reeses, Bacon and Pizza
I'm having fun asking these questions, comment below a question you want asked!
Coin King 15:Walking Liberty Halves
Sam Gelberd:Favorite From The Auction is the South African Proofs
Almost at halftime and gold coin right after. If you were going to watch 1 lot watch lot #51!:
https://www.youtube.com/watch?v=i4FjRhrXjkM
Kenny just won the gold coin for 1300 YN dollars. Congrats! Halftime starts now.
The ANA's Halftime Report:
Go Vote For Halftime MVP
https://pollev.com/thecoinstude527

3:08 P.M.
It's official you voted Kenny as the halftime MVP for winning the gold coin. We're back up and we're on lot #52! Stay tuned for the overall MVP, which is the most important award! Maybe I'll interview Kenny! Stay tuned:)
3:14 P.M.
So I asked the golden boy himself how he felt to be the halftime MVP:
"Good, I guess haha"
Glad to see YN's having fun out here:)
BTW, I'm thinking about a grab bag team faceoff. East vs West vs Central. Team with most grab bags wins! What do you think?
Team East: Team Central: Team West:
Jonas
Cheryl Barkley Mihir K
Jack375 999 Kevman Carter Bell
Isaiah Hageman
3:24 P.M.
Jonas Comments:
"here's a link to my spreadsheet on it is listed what everything is going for and how much there worth. Ignore the colors of the lines the green doesn't really mean anything. It is updated live. https://docs.google.com/spreadsheets/d/1jmG5Ymqcco7JZQfO985rx7uVWWOJ-PXHqA4UlBb3tOY/edit?usp=sharing"
UPDATE:Garrett Ziss Bought that redbook (lot 57) for $425 YN dollars
So I asked YN's what their favorite college is:
Kenny:Penn State
TheCoinStudent:Notre Dame
Lufstob Lee: Ohio State
Jonas:William and Mary
4:11
YN's paying their respects to Rollie and Abby Z bought lot #76 for 200 Yn dollars
Jonas also is the first person in YN auction history to use an emoji to bid as he used an 100 emoji on lot #76. Major style points.
Rest In peace, Rollie.
We're almost at the grab bags. Who will win? West, Central, or East? Stay Tuned.
The auction is over, team central won and now you need to vote for mvp!
https://pollev.com/thecoinstude527
Kenny Won The Overall MVP! Congrats!
8:50 P.M.
Congrats To Big Nub Numismatics For Winning Rookie of the year!
*This Marks The End Of The Live Blog*