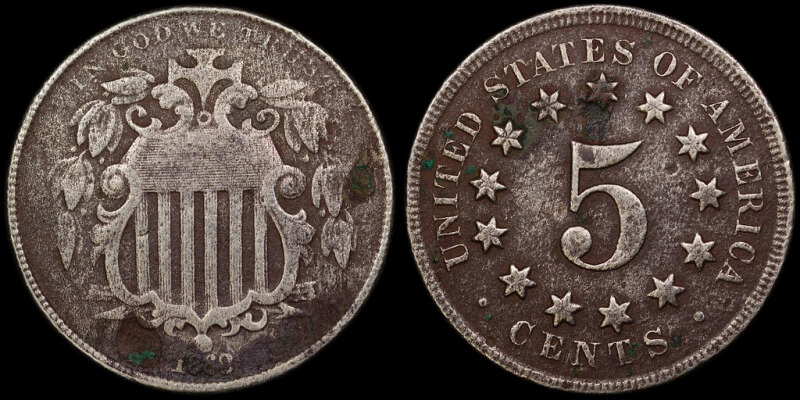 A History of the Early Nickel
For this blog I will be writing about the early history of nickels.  If you wish to read about the later history of nickels, you can refer to an earlier blog entitled "A Brief History of 20th Century Nickels"
The nickel was made possible by the Act of May 16th, 1866.  The mintage of the nickel may seem obscure, when considering that there was already coinage of the same value in circulation(The Half Dime).  But during this period, there was an excessive amount of silver and gold hoarding, so the mint could not economically produce the half dimes.  The solution was to create a new coin of like face value, but of different materials, hence the nickel was born.
The first minted nickel was the Shield Nickel; its weight was set to 5 grams and consisted of a composition of 75% copper and 25% nickel.  The obverse was similar to that of the two-cent coin; It portrayed a shield with the motto: "In God we trust" above the shield and the date below.  The obverse design remained consistent throughout its' mintage.  The reverse however, had two varieties.  The first depicted a "5" surrounded by an alternating pattern of stars and rays with "The United States of America" positioned above, and "Cents" just below the pattern.  It was minted from 1866 to 1867.  The second type was very much the same, except the rays surrounding the "5" were eliminated, this was minted from 1867 to 1883.  Circulating coinage was not made in the years of 1877 and 1878 but only proofs were minted.
No further design modifications were implemented until 1883 when the Liberty Head Nickel was introduced.
I hope you found this informative and thank you very much for reading.