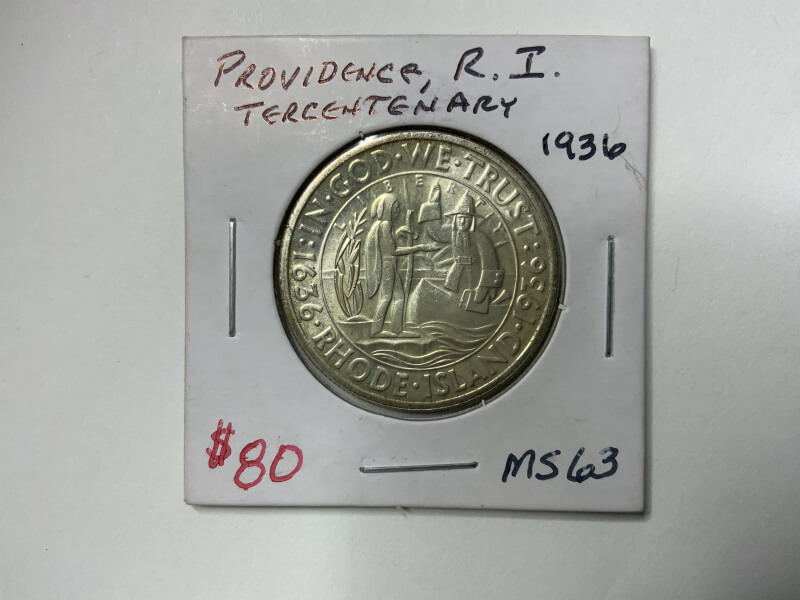 1936 Providence, Rhode Island Commemorative
† † †I wanted to blog about some of the coins I got for my birthday. First of all, my brother bought me a 2018 Chinese Silver Panda which I put in my album and it looks great. This was the only coin I got gifted but I also bought a 1936 Providence, Rhode Island, Tercentenary Commemorative coin at my coin club. It was selling for $80 and I bought it for only $70, a great price! The coin was in MS 63 and is worth around $110. I got for my 1936 commemorative exhibit and I decided to do a little research on it.
† † †As I said before it was minted in 1936 for the 300th anniversary of the founding of Providence, Rhode Island, although there is nothing that references city Providence, It was founded by Roger Williams who is depicted on the coin being greeted by an Indian on the coin. He was actually commanded to leave Massachusetts and to go back to England. He escaped with four others and established a settlement called Providence. He negotiated with the Indians and purchased the land. The observe shows an anchor with the words 'ÄúHOPE'ÄĚ above.†
† † †The coin was designed by Arthur Graham Carey and John Howard Benson. 20,013 were distributed of the Philadelphia mint ones including 13 assay coins and a total of 50,034 coins in all mints including 34 assay coins. Examples are readily available in MS63-MS65 condition and ones in MS-66 and MS-67 are not super hard to find.†
† † †Thanks for reading my blog and have a great day!
† † † CheerioCoins