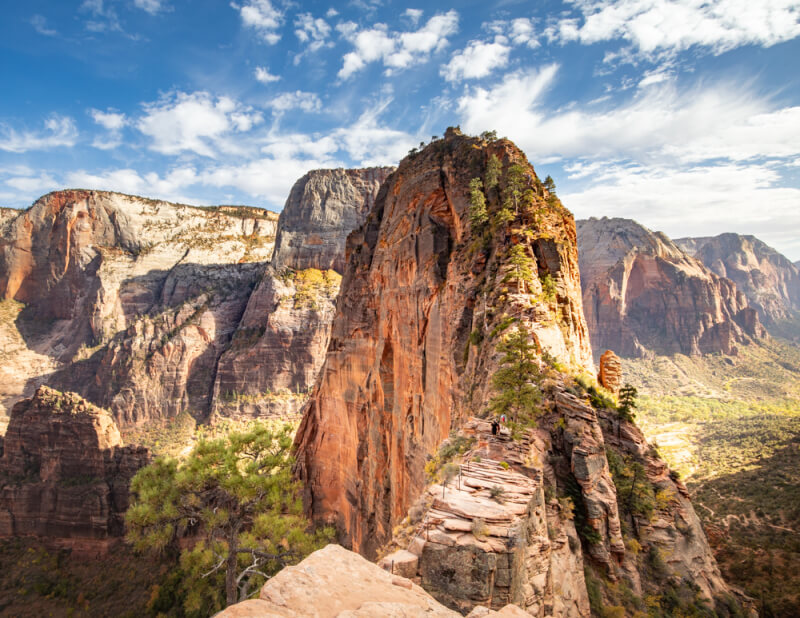 Coin Finds and a Trip Update
I have been going along this trip for a while now and have visited some really cool places so far. We visited Antelope Canyon, Horseshoe Bend, Zion, and many more. One of the things we did today at Zion was a trail called Angels Landing which has a 1500 ft elevation. It was steep, high, and pretty scary, especially with the signs reminding people that 17 people have died falling off of it. @thatcoinguy didn't come on that one and I don't blame him. When I looked it up there was a video that said "Angel's Landing - Scariest Hike in America?". Maybe it is, but the view was great, along with the experience. My heart was racing the whole time though. You should check it out. It is one of the world's most renowned hikes and has 4.9 stars!
We have gone roll hunting during this trip and I have found a few notable things. The first being a Massachusetts state quarter with a hole in it. Not worth anything but still cool. I also found 3 circulation strike San Francisco mint quarters including the 2020 Tallgrass Prairie, 2022 Sally Ride, and 2014 Great Sand Dunes. I also found a 2020-D American Samoa quarter with what appears to be a cud of some sort over the mintmark. I also found 2 W quarters one was 2019 Lowell and the other was 2019 San Antonio Missions. I will get picks of these when I have a camera to access. I'm lucky to have internet here but tomorrow we head to Salt Lake City where there is great internet so maybe I will post a blog there.
I got an email today saying I got 3rd place in the YN literary award contest for my article on Great Depression Era Coinage. The judge was Bill Fivaz who I know but I don't think he was biased. The prize was $100 for things from Whitman Publishing which I will tell you about how I spend it later. I will also post that article here for you guys to see too. I pulled it together in about two weeks so I didn't have a lot of time to work on it.
Thanks for reading my blog and have a great day!
CheerioCoins