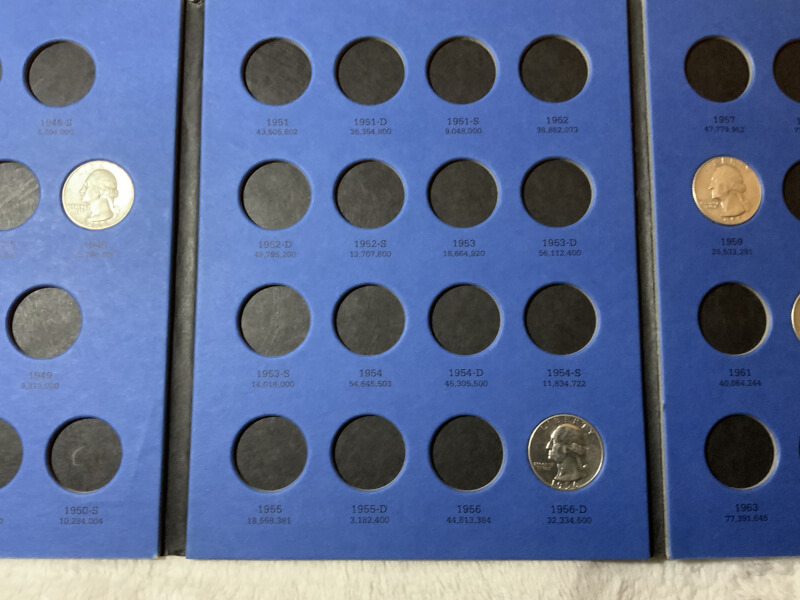 Update on my Silver Coinage Collection!
Since it is a new year 2022 I decided to re-update my silver collection! From dimes to dollars I have lots of silver coinage. Some I have already blogged about and some will be new! 

The first coins are the dimes. I have one 1906-O Barber dime in my 20th Century Type Set Folder, three Mercury Dimes one 1917 in my 20th Century Type Set Folder and two (1919 and 1929) in my Mercury dime folder, then I have one 2964 silver Roosevelt dime also in my 20th Century Type Set Folder.

Next are the nickels. I have 1943-P in my 20th Century Type Set Folder, 1944-P, 1944-P, 1943-P, and 1942-P in my coin album, and finally one 1941-P in a coin holder.

Now for the Washington quarters. I have one 1956 in my 20th Century Type Set Folder, 1935-P, 1941-S, 1943-S, 1948-P, 1949-D, 1956-D, 1961-D, 1959-P, 1960-P, 1964-P and 1964-D in my silver Washington quarter folder, and finally I have a 1959-P toned Washington quarter in a flip.
Next up is the half dollars. I have one 1958 Proof Franklin half dollar and one 1972-1982 George Washington Commemorative 250th Anniversary of Birth.

Next up are my silver dollars. The first one is my 1921-S which is in my 20th Century Type Set Folder, then my two flipped ones 1899-O and 1922-D, then a 1921-S in a holder too big for it, then finally my GSA's 1982-CC, 1982-CC, and 1983-CC, next are my silver Eisenhower's 1971-S uncirculated silver dollars and my 1971-S Proof in a holder, then my two ASE's 2019 and 2021 Type 2. Then finally my 2017 Lions Clubs International Centennial Silver Dollar

Finally are my silver bullion Chinese Panda coins  2016 and 2021 in cases and 2022 in a fancy case.

And then of course there is my cat Cheerio with the Type 2 ASE! Thanks for reading my blog and have a great day!

CheerioCoins