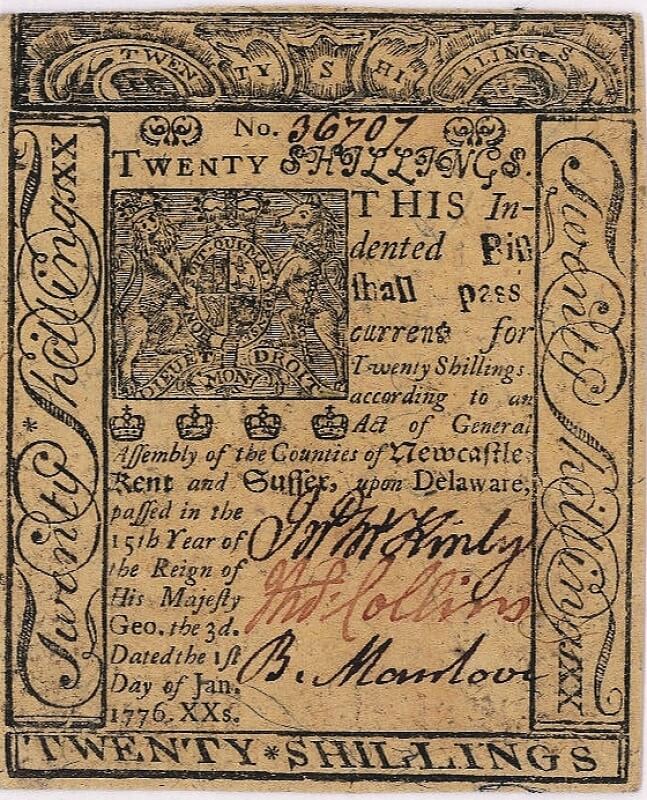 What Else Happened in 1776?
As hopefully all of us know 1776 was a pretty important year in the history of these United States. We all have been taught about our declaration of independence and other heroic acts from this period of our history. Obviously this isn't the only important event that took place. Granted the world was watching what was happening but they weren't frozen in place while we worked out our differences with Great Britain. This Machin's Mills halfpenny is an example of this. Although a genuine coin many consider it a counterfeit Great Britain halfpenny. Although dated 1776 it has been determined that these were minted at a later date.
So here is a small sample of what else happened, of course with some numismatic references.
1776 was a leap year starting on Monday of the Gregorian calendar and a leap year starting on Friday of the Julian calendar, the 1776th year of the Common (CE) and Anno Domini (AD) designations, the 776th year of the 2nd millennium, the 76th year of the 18th century, and the 7th year of the 1770s decade. As of the start of 1776, the Gregorian calendar was 11 days ahead of the Julian calendar, which remained in localized use until 1918.
Jan 2nd Austria ends interrogation torture
Feb 8th Wolfgang von Goethe's "Stella" premieres in Hamburg, Germany
This evangelical church was built in Hessen Germany. The Wildman coin is also dated 1776.
On hearing of our declaration of independence Catherine the Great of Russia attributed the actions of Britain's former colonists to "personal fault" on the part of the British Crown in the form of its colonial policies. Moreover, the monarch believed "that the separation of the colonies from the mother country did not conflict with the interests of Russia and might even be advantageous to her." This government is known for large copper coins like the 5 Kopek piece pictured.
February 17 – Edward Gibbon publishes the first volume of The
History of the Decline and Fall of the Roman Empire.
March – Restrictions on the cereal trade in Sweden are lifted.
March 9th – Scottish economist Adam Smith publishes The Wealth of Nations in London.
April 15th - Duchess of Kingston found guilty of bigamy
May 12th - Turgot, French minister of Finance, resigns
May 2nd - Doctor Adam Weishaupt, professor of canon law at Ingelstadt University of Bavaria, forms the Order of the Illuminati secret society
May 2nd - France & Spain agreed to give weapons to American rebels
May 12th - Turgot, French minister of Finance, resigns
I particularly like this French ECU because of the unusually large amount of adjustment marks. This coin is about the size of a silver dollar.
May 13th - University library at Vienna opens
June 6th – A fire destroys major parts of the town of Askersund, Sweden
July 12th – Captain James Cook sets off from Plymouth, England, in HMS Resolution on his third voyage, to the Pacific Ocean and Arctic, which will be fatal.
The National Library of Malta, often known as the Bibliotheca (Maltese: Bibljoteka), is a reference library in Republic Square, Valletta, Malta. It was founded by Grand Master Emmanuel de Rohan-Polduc in 1776 from the collections of the knight Louis Guérin de Tencin. It has the largest collection of Melitensia along with that of the University of Malta. The library also contains the archives of the Order of St. John.
July 21st – Mozart's Serenade No. 7 (the "Haffner") is first performed in Salzburg, Austria.
August 4th - Retired British cavalry officer Philip Astley establishes first circus.
September 6th - Hurricane hits Martinique; 100 French & Dutch ships sinks; 600 die
September 6th – Hurricane hits Guadeloupe, killing more than 6000 people.
September 24th - First St Leger horserace held at Doncaster
September 24th - The Bolshoi Theatre Company hosts its first annual opera season, with the opening of the Bolshoi Kamenny Theatre in Saint Petersburg, Russia
October 7th – Crown Prince Paul of Russia marries Sophie Dorothea of Württemberg.
Oct 26th - Benjamin Franklin departed from America for France on a mission to seek French support for the American Revolution.
And….my personal favorite.
October 31st – In his first speech before British Parliament since the Declaration of Independence that summer, King George III acknowledges that all is not going well for Britain in the war with the United States.
December 17th - France recognizes independence of English colonies in America.
I included a piece of colonial paper money because this piece is dated 1776 and was printed for use in Delaware. I grew up in Delaware so this note one of my favorite numismatic items.