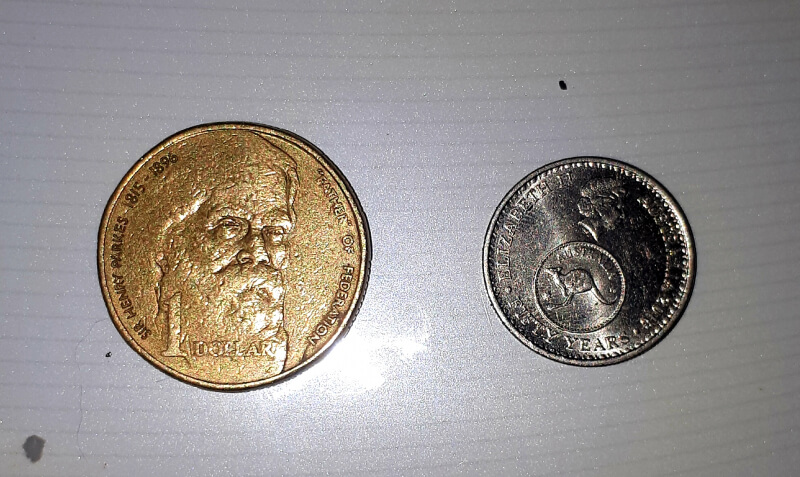 Commemorative coins in my pocket 18 March 2022

Sir Henry Parkes 1 dollar commemorativeCountry of Issue  Australia
Year of Issue  1996
Denomination $1
Weight (g) 9.0000
Metal Aluminium Bronze
Diameter (mm)25.00
Issued By Royal Australian Mint
Portrait of Sir Henry Parkes, a 19th century Australian politician widely acknowledged as the "Father of Federation" of Australia; bearded, three-quarters right. Around incuse on left, SIR HENRY PARKES 1815 - 1896; around on right, "FATHER" OF FEDERATION. Below the portrait, the denomination and value 1 DOLLAR


And my second find in my loose change


50th Anniversary of Decimal Currency 5 cent 
Obverse
Small version of the 4th portrait of Queen Elizabeth II facing right wearing the Girls of Great Britain and Ireland Tiara,
Reproduction of 1953-1964 1 Penny Coin with Kangaroo
Script: Latin
Lettering:
ELIZABETH II
AUSTRALIA 2016
FIFTY YEARS
AUSTRALIA
Designer: Ian Rank-Broadley 
Reverse
Short beaked Echidna (Tachyglossus aculeatus)
Script: Latin
Designer: Stuart Devlin 
Issuer Australia
Queen Elizabeth II (1952-date)
Type Circulating commemorative coin
Year 2016
Value 5 Cents
0.05 AUD = USD 0.037
Details
This coin was released into circulation by the RAM to commemorate the Changeover 50 years ago in 1966 to decimal currency in Australia.
The Reverse of the coin is the same as a standard definitive 5 Cent coin. The Obverse of the coin has a miniature Ian Rank-Broadly Queens Head and a representation of an Australian Penny coin as issued between 1953 to 1964. This coin was released into circulation in 2016 alongside the normal definitive version.
.


.