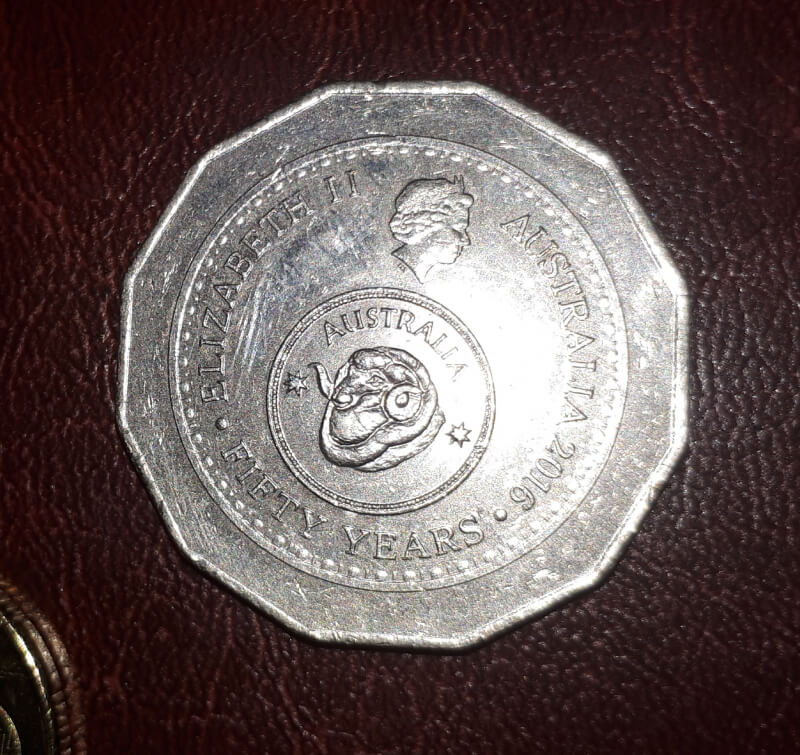 Commemorative coins in my pocket change 8 February 2022
in my change today

2020 Qantas Centenary 100 Years $1 One Dollar Coin

Issuer Australia 
Queen Elizabeth II (1952-date)
Type Circulating commemorative coin
Year 2020
Value 1 Dollar
The Royal Australian Mint released this $1 dollar coin into circulation in February 2020. The commemorative $1 coin depicts a stylised B787-9 Dreamliner flying through the number 100, a hundred years since QANTAS was founded in November 1920 - the third oldest airline in the world.
Originally Queensland and Northern Territory Aerial Services, shortened to the acronym QANTAS, is also known fondly as the flying kangaroo -with an impeccable safety record. The coin design includes parallel lines in the plane's wake to signify movement and progression in the airlines 100 year history. This Dreamliner aircraft with the QANTAS badge flew the first non-stop flight between Perth and London in 2018 and QANTAS was the first to complete the longest commercial flight between New York and Sydney in 2019.
50 Cents - Elizabeth II 4th Portrait - Millennium

Issuer Australia 
Queen Elizabeth II (1952-date)
Type Circulating commemorative coin
Year 2000
Value 50 Cents
Released by the Royal Australian Mint into circulation this 50 cent coin celebrates the turn of the century, the transition from the second to the third millennium.
There is a die variety of this coin that has an incused flag and a larger left star. (Approx. 200,000 minted)



2016 50c - 50th Anniversary of Decimal Currency  Coin

Australia mad the change to decimal currency on 14 February 1966. Before this this, Australian currency was the old pounds, shillings and pence. The changeover was transformative as, for the first time, Australia's coin designs were of Australian origins. Stuart Devlin's winning designs of unique Australian fauna have stood the test of time and are as much loved by Australians today as they were 50 years ago. Devlin's beautiful, intricate Australian Coat of Arms design has been chosen by the Royal Australian Mint as a worthy flag bearer for Australia's celebrations of this anniversary.
Combining the shape of the original 1966 50c circulating coin, while featuring the edge profile and metal composition of the current 50c dodecagon coin