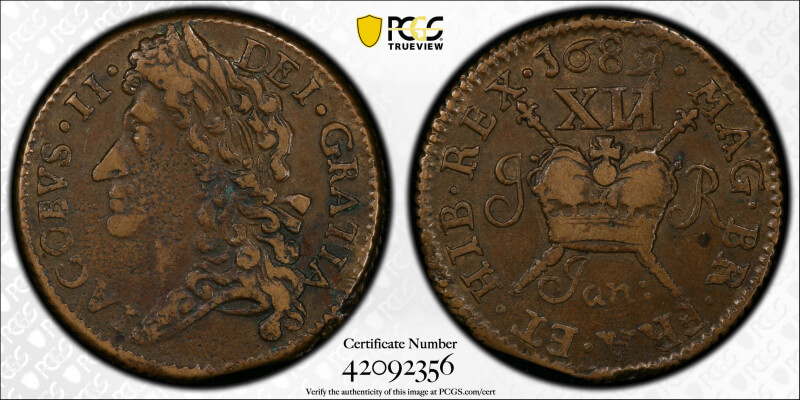 In a past blog the subject of Irish Gun Money had been discussed, as well as the coinage of the Irish Republic dated 1928-1969.  Yesterday, while in avid pursuit of the latter, your's truly happened upon quite possibly the best deal of a lifetime or so from a personal perspective. A fierce competition was being waged on EBAY for the coin in question, represented in this blog. And so, I thought I'd share.                                            Enjoy!



Without repeating the in depth description of Gun Money covered prior,  in a feud for the throne of England, James II was exiled to Ireland in 1689 where he'd wage a war to reclaim what had been rightfully his. Since troops and war cost money, and little metal available to coin for as much, scrap metal was confined to smelting for such purpose. A primary source became objects such as church bells and cannons, being large with plenty of metal, hence the coinage name.  What is both unique and interesting, is that these coins struck over only two-years, consist of a month along side the date. The reason being, James II made an agreement that following his return to England after a victory, those who possessed them would be paid interested on each based upon it's stamped month. As you may note from the image, this one is dated January (below the crown on the reverse "JAN:) of 1689 making it the first to be struck. How many is nearly impossible to say. Yet a search on the PCGS population puts it at one of only seven. Yes, seven. And that is the reason of the title. I scored this one for $128.50.  As I've mentioned, and firmly believe, rare coins are quite often well within the average collector's budget if you know where to look. 
Gun Money was struck in sixpence, shilling, half-crown and crown denominations. Primarily of bronze, silver and gold exist but as imagined, quite rare. That pictured is a shilling.

Thanks for reading.  I hope this inspired you to look beyond the ordinary, to explore the possibilities and in return share the experience with us.