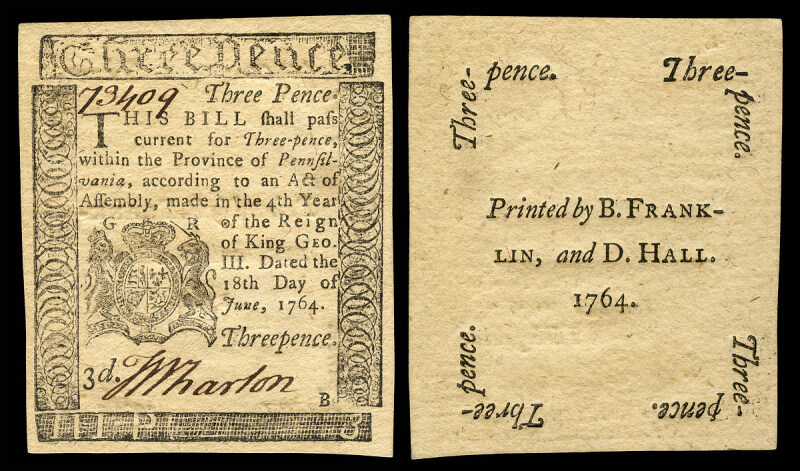 Master of the Grand Illusion
As we as nation approach the 244th anniversary of the signing of the Declaration of Independence I thought of a subject which seemed appropriate and connected to the words written on those cherished sheets of paper. As I looked at the fifty-six names on the bottom for inspiration, several names suddenly became linked to the creation of our financial system. Three of which represented on our coinage, Thomas Jefferson and George Washington on the two current coins and Benjamin Franklin on the former half dollar. In an instant the latter became the subject of research for this weeks topic and wow, what a fascinating brilliant individual Franklin was. One would think, as I had, that it be about the half dollar or his connection to the Continental Dollar, it is not.    Enjoy!
Benjamin Franklin is best remembered as the great scientist and inventor of Colonial America. As I dug deeper into the man, I stumbled across several of his many writings of the time to find what I myself have concluded and pondered on for sometime. Several of the men assembled in Philadelphia in 1776 realized in the coming years that for the country to survive and exist should independence be achieved, there must be a national currency and system lest it become beholden to another. Franklin, the brilliant financial thinker he was, proposed that "money is not a thing, it is an idea.".
Coin had long been the financial backbone of the economy for centuries as a means of transaction for payment of goods and services. That of early America came from three sources. Britain, who coined the only "legal" currency, other hard currencies from foreign nations such as Spain, or those struck by local colonial mints. In the years precluding our own national mint, the underlying problems associated with this method of financial stability reared it's ugly head as tensions arose leading up to and following the Declaration. Since Britain controlled the vast majority of coinage used in commerce they thereby controlled the populace. As the people revolted, the supply of coin was reduced as means to hinder the daily lives of the unruly, going as far as shutting down these local colonial mints with armed resolve. The Massachusetts mint, for example, was one of the first to print script in 1690 as a means to pay for transactions with the increased coin shortage. As a simple solution, the backing of paper in the form of gold and silver coin, was not without problems of it's own.
On April 3, 1729 a young Benjamin Franklin published a little known pamphlet titled "A Modest Inquiry Into the Nature and Necessity of Paper Currency". Since gold and silver were the only real money, paper held no value of it's own until redeemed for the former. From the onset as script was introduced, aimed specifically to cover coinage shortfalls, the wealthy began supporting the use as a means to further expand their self interests. These men with quantities of coin and no real principal stake would lend money in the form of script on security for exuberant interest. Without the trade which a robust supply of coin evokes the common people become impoverished and subsequently obliged sell land for paper, which after interest means less money. Yet this also is not void of problems as became evident with an increase in printing. By simply printing more "money" at some point the number exceeds the value in which it is backed. In other words, more paper circulating than there is hard coin backing it. So to conclude, Franklin derived that true value from the sum of all transactions, all things made and  the services people exchange, are based on the physical melt content of coin.
Proof that Franklin was a financial thinker ahead of his times, and spot on in his conclusions, one only needs to look at our modern financial system and what it is really backed upon. That of the Untied States proclaims as much, "Full faith and credit". 
In concluding this weeks week's blog, I wish all a pleasant and safe Fourth of July and hope that we may all take a moment to remember it's meaning and the sacrifices those 56 made in signing what King George deemed their death warrant.