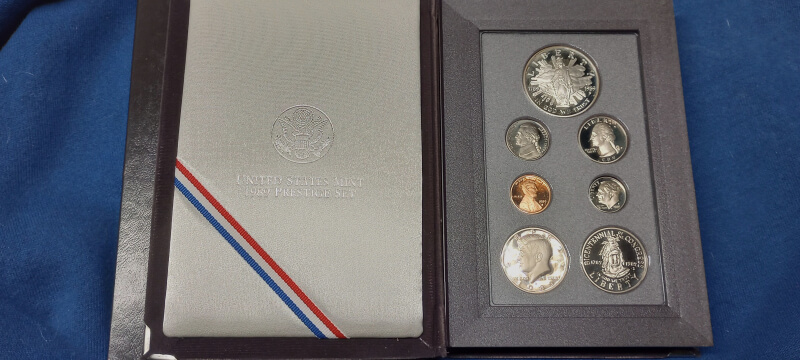 Last week's blog topic pertained to finding rarity and value far exceeding that of what we as collectors first think of on that subject.  Low mintage, low survival high grades of world coinage comparative to similar coins of the United States. The subject of this week is a continuation, finding value which all too often is right before our eyes.  The Prestige Proof Sets from 1983 to 1997.                               Enjoy! 


Beginning in 1983, the United States Mint began a series of proof sets spanning fifteen years, excluding 1985 for an unknown reason. These sets were the pinnacle of perfection and the highwater mark to future quality of their product packaging. These sets were composed of silver representatives of the cent through half dollar along with a dollar and/or half dollar commemorative of the set's year housed within a plastic case and bound to an outer covering giving appearance to a book. The 1983 and 1984 sets featured a fine, faux leather with button snap closure. Those from 1986 and on were covered in a luxurious felt, each year being a different color, and were now larger in size  than the previous two years.  All feature a silk lined pillow on the inner covers with embossed text and date  as well as a heavy cast metal  eagle centered on the cover.  In all, there are 14 sets. 


Which brings us to that unrealized value mentioned in both the title and opening. Commemorative coin sales have been popular since their return in 1982, growing in fact over the past few years. With a few exceptions, a large percentage of earlier issues trade for not much above their original issue. Some even less. Using the 1989 Congress commemorative as an example, currently the dollar averages around $30 and the half dollar $21.00.  The 1989 Prestige Proof Set  can easily be found between $30-35.  Clearly costing less than buying them individually, they contain three addition coins composed of .90% silver. So if this is not a true value by every definition, what is? Perhaps some simply like them individually. Yet for the money, you'd be foolish to pass them by. 


And finally, some added history behind the coin you guys always thank me for. Which is greatly appreciated.  While the obvious Capitol it's self could be presented, or those elected who hold chamber within, something which I'm fairly certain no one has heard of comes to mind. The Architect of the Capitol. This is the federal agency made up of 2,000 plus employees who's sole purpose is to serve, preserve and inspire the Capitol, and it's grounds, both houses of Congress, The Library of Congress, the Supreme Court and the Botanical Gardens.  Their very existence dating back to the laying of the Capitol cornerstone in 1793.  It began with Dr. William Thornton' design of the grand two-wing structure and central dome, credited as being the first Architect of the Capitol. These are the people, behind the scenes if you will, who ensure that the symbol of American strength and power continues to be.  And a beautiful structure it is!