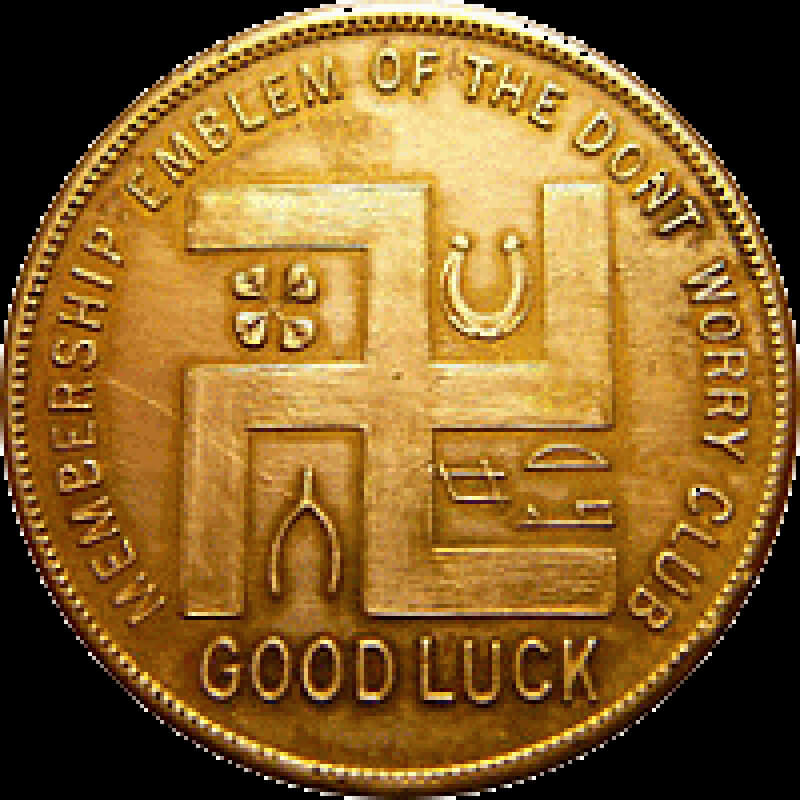 As a coin collector of many years, 46 or there about to be exact, on occasions something appears which you had no idea it existed. This weeks blog examines just that. To begin, the item at hand was found metal detecting by my nephew  this weekend past while doing archeological work for the Greene County, PA Historical Society. At first glance it is a safe assumption that seeing a large swastika "coin" would be a reference towards the Nazi Party and Germany. This would be incorrect as the symbol has held many different meanings over as many centuries. As you read on I'm certain you will be as amazed at how common and relatively inexpensive these fascinating pieces of metal are.  Enjoy!
In 1898 a gentleman by the name of Theodore Frelinghysen published a book entitled "The Don't Worry Philosophy" in an attempt to rescue Christianity and society by simply casting worries aside. For the strangest of reasons this book had a large following, in that the public began a movement based largely on this philosophy. So much so that local clubs began popping up across the country. Eventually several of these clubs consolidated to form the Don't Worry Membership Club on a national level. It was around this time, thus far I have not found a date as none exist on these tokens, that local business around the United States capitalized on the enthusiasm created by the club by having tokens struck for advertisement purposes. Many of these are from small, unheard of towns in nearly half of the states. Dots on a map if you will. Numbering in the hundreds, these Large Cent sized copper or brass tokens thrived until some time in the 1920's. Why they died out is somewhat of a mystery.
Since all of the known tokens share a similar swastika design with a shamrock, horse shoe, wishbone and hieroglyphs (each varying in placement from token to token) this should be the obverse. The reverse has the business name and product/service.
I tried to get a clear picture to post of the token found, but from being buried for many years it does not quite show for intent. So the two photos were taken from an internet search. If this is of interest, further reading and information including photographs can be found at the following link. Thanks for reading and go find something odd and unusual!
sageventure.com/coins/worry.html