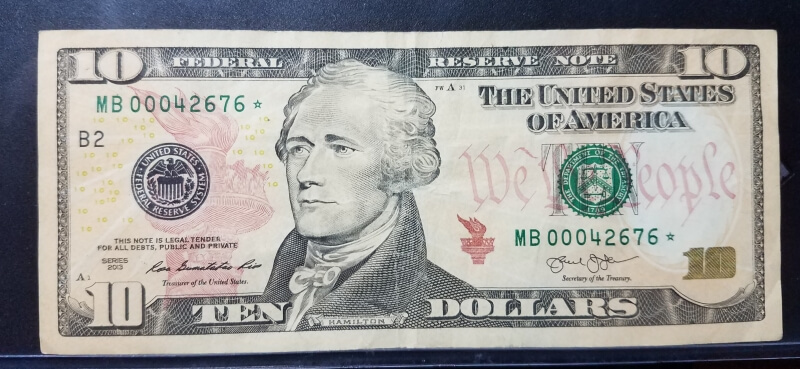 2013 $10 Low Serial # Star Note
Hi Numismatic Community! Lately I've gotten into the habit of checking my serial #'s of paper currency just for fun! Also a cost effective way to collect some neat bills.
I got lucky (I think) and I came across a low serial number $10 bill from 2013. Anyways I believe it to be a low serial number 42,676 out of well a lot more than that. So I'm not a big expert on paper money but I did have fun learning about the bill, and wanted to share some of the information I found as well as get some input as to if I should get it graded at PMG or just keep it in a nice safe place. Only problem with grading will be it will get a details grade because someone at some point stamped the back of it with the "#" sign, not sure why, but it's there.
Anyways learned B2 = New York, there were 313,600,000 $10 notes produced in 2013 for a total of $3,136,000,000! This note is a start note so from what I understand they are produced to replace serial numbered notes that are damaged during the printing process.
This note also has the "A1" in the bottom left corner to indicate it's plate position was the top left corner, so the very 1st bill of that plate!
Love to hear some comments!
Is it worth saving? Should it be graded? Any other interesting information?
Thanks!
Jason Crook, CPA, CFE