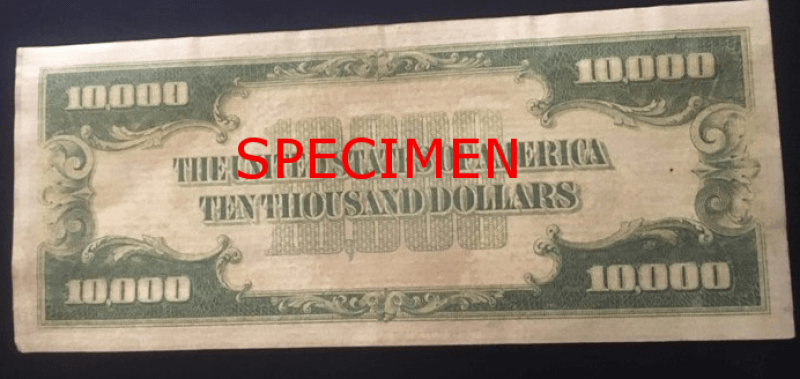 Large Denomination FRN $10,000
I've come across a possible US $10,000 bill, and I know they are extremely rare and probably equally difficult to authenticate. According to the research I've done it seems most of the known to survive bills came from the Binion Casino hoard. It seems there are only about 336 known to exist so I assume finding an authentic one is a treasure indeed.
The circumstances surrounding it's discovery, in my opinion, make it plausible that it may possibly be authentic, but there are a few concerns I have about the specimen.
1. The serial # is higher than, the anticipated or thought of production level of 60,000.
2. There is a variation on the obverse in the "WASHINGTON D.C.; SERIES OF 1934" and the signature of the Secretary of Treasury, it seems these parts of the bill are of different type print and the text is closer together, the the public viewable bills such as the Binion ones etc.
I mostly collect coins and I'm not too versed on paper money, but I offered to help the owner of the bill try to authenticate it. My plan is to send it to the PMG for review and then go from there, but I wanted to post here to see if some of the more seasoned paper money collectors can spot some obvious possible counterfeit issues or can tell if it's fake off the get go.
I added the red "SPECIMEN" lettering myself to the original images.
Love to hear what others think.
Thanks!
Jason Crook CPA CFE LLC