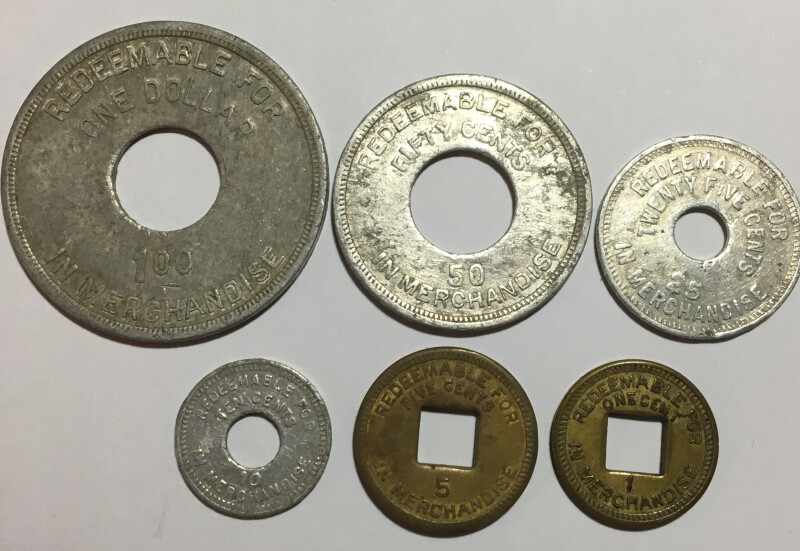 "!Good morning, respected Numismatists and Collectors, we hope everyone had an excellent weekend and we fully trust that the current week will be the best for all of you!"
              This time with our usual  capsule, we have wanted to dedicate not to coins but to Fichas or Tokens (as it is known in English) because it is one of the most interesting parts of the Numismatics, for all the history that narrates through a tab. In our country they have very very interesting, rare, expensive and collectible cards. Tokens from the time of union to Colombia.
We have been able to group our Token for Trading, Coffee Token, transport Token, casino chips, Canal Zone Military Tokens (Very very collectible).
Let's start our first issue of information Token, which in our opinion is the "Crown Jewel" in our family of Tokens, neither more nor less I present to LOS TOKENS DE PALO SECO that had issues of 1C, 5C, 10C, 25C, 50C and $ 1, are very sought-after token, very difficult to reach today the full collection of this family.
In 1907 the Leprosorio de Palo Seco (Hospital for Lepers) was founded in a financial agreement made by the government of Panama and the US Government, as a group of American doctors discovered 13 lepers in the new city of Panama. The US would charge $ 0.75 for lodging, food and care for the government of Panama. The Leprosarium is built in what is now known as Veracruz. If you want to read more about the history of this place, we forward them to http://www.coins-of-panama.com/paloseco.html?Size=SmallNO
In 1919 it was decided to made Token as a means of payment within the hospital because it was erroneously thought that current money could be transmitting the disease. In 1952 all the Tokens of circulation leave and in 1955 90% of the made pieces are destroyed, nevertheless it is not known how many were destroyed during the time that were used. Today there are very few Token that are obtained and in general those of smaller denomination are acquired (1C and 5C) with greater ease than the rest of the pieces. It is possible that not more than 3 people in Panama can have a complete set.
The most important certifying companies NGC and PCGS, place only 1Cent  as MS and the rest there are only up to Grades AU55. Generally speaking most of the pieces are either bent or have been badly damaged.
Denomination
Mintage
1C
2000
5C
1000
10C
1000
25C
1000
50C
1000
$1.0
1000
We hope that the capsule will please everyone.