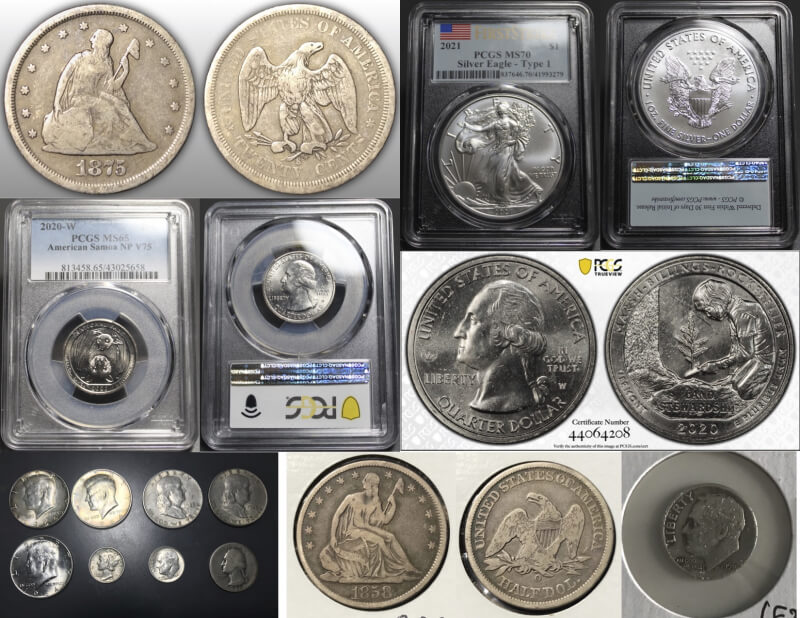 20c Piece, Silver on the Ground and More! | Coin Update #54
Hello all!

I finally got around to writing another blog, so let's go!

Today I have multiple purchases to share, but since I haven't really hunted anything since last time, I won't have many (if any) CRH finds to share. 
First up I have a couple of purchases from my local coin store to share. The first thing I did was dig through the junk silver (since it was only $21 per dollar face) and since there wasn't anything terribly cool pull out the coolest coins I could find. I ended up getting $2.95 face value. I grabbed a couple of '64 halves, two first year Benji Half dollars (one a 1948-P and one a 1948-D I believe), along with a nice 1943 Merc, a '64 Roosie and a 1936-D Washington quarter. Also while I was there I grabbed a nice 1958 seated half dollar for my type set for $75—it has great details and awesome-looking original skin—although it has a slight rim bump on the obverse. 
Next I have a couple more GC purchases (that I added to the last invoice to get the most of the shipping fee). I got two PCGS graded W quarters for my W quarter set: an MS-65 Marsh Billings Rockefeller and an MS-65 American Samoa which were $42 and $30 respectively. I also grabbed a nice black core holder first strike MS-70 2021 TI silver eagle for a little over $55. 
Next, I have a couple of purchases from PCGS forum members. First and formats is a really nice 1875-S 20c piece for my type set. It is in great shape, would definitely straight grade at least VG-10 (and maybe even make a F-12-the pictures make it look cleaned although it definitely isn't) and looks great in my type set. I paid like $120 for it (making it my most expensive coin as of yet). The second PCGS forum purchase is pending but I'll mention quick (although I'll have to wait to share it till I get it—meaning it will be in my next blog if all goes well). It is an unopened 1955 proof set. I'm paying $120 shipped which is a great deal since most of the opened 1955 proof sets on ebay are listed for over $150. I'm hoping to end up with at least one or two coins worthy of grading—either because of toning or possible CAM grades. 
Lastly I have an interesting miscellaneous find. While I was taking drive-through orders and payments outside at my job (Chick-Fil-A), I noticed what looked like an oddly silvery looking dime on the ground, I tried to pick it up, and heard the ring of silver. It was a severely road-rashed 1956-D silver Roosevelt dime, but hey, silver is silver!
Anyways, thanks for reading my blog, be sure to keep an eye out for my next one, enjoy the pics, and have a splendid day!
(Working on the Pics--it's giving me grief)