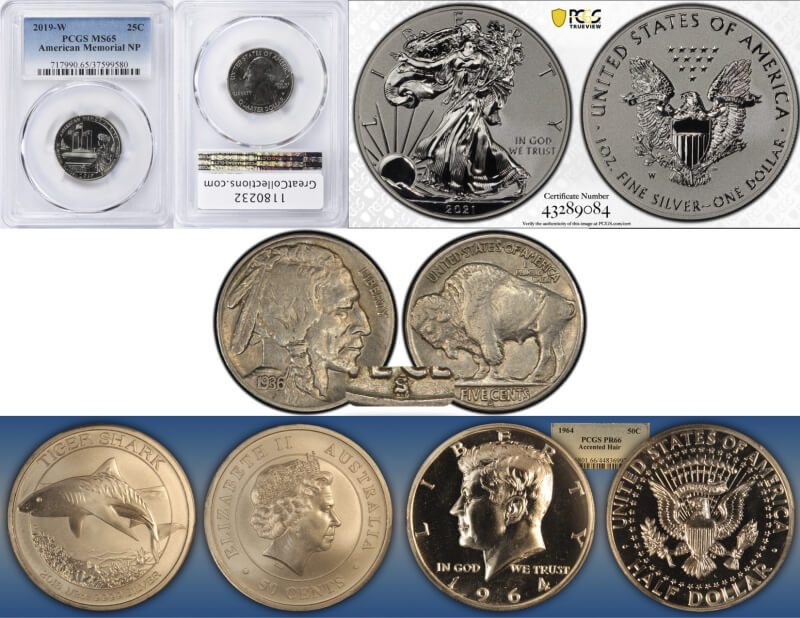 An RPM, RP ASE, and More! | Coin Update #57
Hello all and welcome to another blog!


As I am sure all  of us YNs are well aware, the annual YN auction is quickly approaching and is now only a bit over a month away on September 10th. I may be writing a few more blogs (and maybe a book review or two) than I typically do so that I end up with a few more YN dollars than I have right now 😊. 
Anyways, I do have a couple of cool purchases to share to keep this blog from being too boring (although I'll have to post a link to the photos again because the website still won't let me post pictures for some odd reason—I may try something else to get it working, and hopefully I am able to post pictures in the normal fashion very soon). I was able to win a couple more coins on GC recently and got them in hand sometime last week. 
First up (I'm going in order from cheapest to the most expensive) is a PCGS MS-70 Australia tiger shark half ounce silver round that I got for around $45 which is probably a decent deal. Secondly is one of the last west point quarters that I need for my 2019 & 2020 PCGS slabbed set. It is an MS-65 AMP quarter that I got for around $50 (which is really cheap if you look at prices on ebay and elsewhere). This purchase only leaves me only needing a War in the Pacific quarter to complete the set. This once is much easier (and more affordable) to get in higher grades than most of the west point quarters so it is just a matter of grabbing one sometime. Once I officially have the complete set I'll post pictures of them all together in one of my upcoming blogs. The third coin is a pretty cool one. It is my first slabbed variety (and also my first slabbed buffalo nickel). It is an PCGS AU-50 1936-S RPM FS-501 buffalo nickel (with an older holder and I trueview to boot). The RPM on this one is pretty subtle as the second S is pretty misaligned and and quite a bit below the other S. The coin is also in great shape with a little bit of remaining luster and great detail. I got it for around $60. Lastly is a PCGS PR-66 Accented Hair Kennedy half dollar. Now this coin I got for a steal of a deal at only around $75. It looks great without any tarnishing or bad spots or nicks. 
Anyways, I better wrap this up for now, so thanks for reading and have a great week!