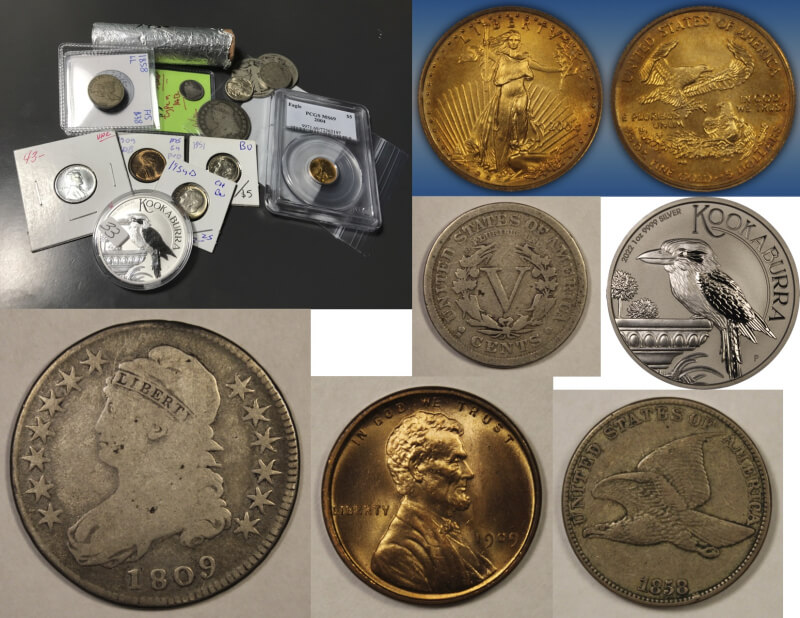 It Finally Happened! My First Coin Show (Gold!) | Coin Update #56
Hello everyone!
It's been a bit since I last posted a blog, and that is in part because I've been pretty busy with work and other things, and partly because I haven't had much to share recently, but today, I have some really cool stuff to talk about, so let's begin!
Okay, so several blogs ago (I believe) I mentioned that I was planning on going to a coin show near me that was happening in a couple of months, well that show was last weekend and I was able to go the first day of the show (Friday)! 
I only had around two hours to look around, so I tried to see as much as I could (I made sure walked past and at least glanced at every single of the estimated over 100 tables) and also (of course) purchase some coins. 
So, well before the show I had decided that I was going to search for and purchase the most affordable PCGS graded 1/10th ounce gold eagle I could find at the show, and I did just that! I was able to grab a beautiful 2004 example with nice toning and an older slab for just $215! 
The second coolest thing I purchased is a really cool 1809 capped bust half dollar. This coin is not only my first capped bust half dollar, but my first capped bust coin in general. It has great detail and would almost certainly grade straight if submitted to PCGS (which is what I plan on doing in the near future). I pulled this capped bust half dollar out of a partial tube of them that a dealer had for only $75. 
The third coolest coin I bought is a really nice BU 1909 VDB cent that I got for $80 (I talked him down from $95). For the remainder of the coins I'll just do a quick run-down. I also grabbed a really nice 1858 flying eagle cent (although it has a slightly annoying scratch on the obverse that I didn't notice till later) for $30, a 1912-D v-nickel for free (since I bought the VDB off of the same dealer), two older walkers (1917-S and 1918) and a nice merc, two toned silver Roosies, an 1837 seated half dime, a BU steel cent (for $2!), and a BU roll of 1956-D Lincoln wheat cents. 
Oh, and I almost forgot, I also grabbed a nice Australian Kookaburra for $33
As you can probably tell, I had a lot of fun, and I saw some pretty cool coins (including a really cool MS64ish [I don't remember exactly] double struck Indian Head cent and a coin the size of a dinner plate!). 
I hope this blog encourages you to find out if there are any coin shows near you and attend one (if you haven't already), seriously, they're awesome! I could have spent days looking through all of the binders, albums, boxs, of coins and the hundreds (probably even thousands) of slabbed coins. 
Anyways, thanks for reading my blog, enjoy the pics (if I can get them to upload for once), go to a coin show(!), and have a great day!