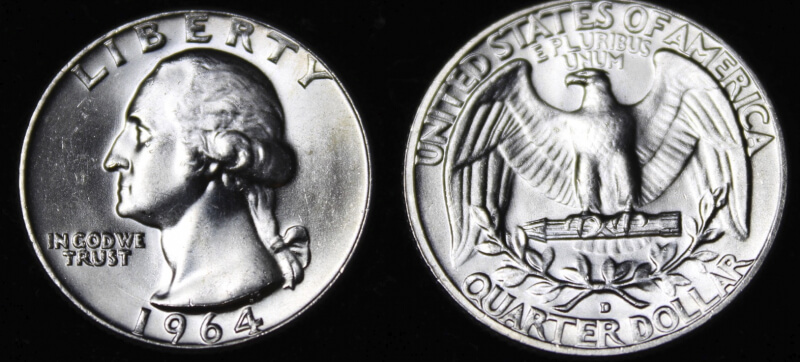 Junk Silver!| Coin Update #31
Hello all!
In today's blog I am going to share some recent purchases that I made from my local coin store. A couple of days a go, I went to my LCS and asked if they had any junk silver, and since the answer was "sure", I spent some time searching through it for any older ones, key/better dates, any toners (I really like toned coins), any nice ones, and anything else I might find. This time I had taken my digital microscope which allowed me to check the occasional coin for a variety (DDO, DDR, or RPM). And while I was looking through the silver, I checked a 1964-D Washington quarter for any doubling, it had some, but it appeared to be machine doubling, so I almost threw it back. But in the end I decided to take a risk (not must risk involved because it it wasn't the variety, than I would still have a silver quarter) It ended up being the WDDO-011 listed on doubleddie.com (at least I am pretty sure, it is a little hard to tell because it is so worn). It is a pretty cool variety, you can see a little bit of doubling on the date. This time there was actually a lot of barbers in the mix. I ended up purchasing a total of $4.10 face value in junk silver (for $82). Out of the dimes, I was able to pick out a nice XF 1945 Merc, a super nicely toned 1948 Rosie, a decent 1947-D Rosie, and even some of the earlier years of mercury dimes: a 1916, 1917-S, and 1917. I also found a 1964 80% silver Canadian dime in the mix which the coin shop said I could have for a buck (which is pretty cool since it is worth more in silver). I also has some great finds in the quarters. I ended up buying 10 quarters in total: the DDO 1964-D, a 1964 with nice toning, a high grade 1964-D (posted it on another forum and got the average opinion of MS-64+) a 1961 with a cool lamination on the obverse, a 1913-D, a 1913 (only 484,000 minted!), a 1912, a 1911-D (worth around $30!), a 1908-D, and the coolest find of this visit, a 1917 T1 standing Liberty quarter. I immediately knew it was a 1917 as soon as I saw it because of the difference between the design of this year and later years. Unfortunately though, someone thought it was a good idea to scratch the coin's reverse up a bunch, otherwise it is a pretty nice coin that I decided to put in my type set in the place of a 1925 of the same type because it is more historic as the second year of issue (second to the 1916 [extremely rare and expensive!]). I also got two half dollars: a really nice probably MS 1958-D Benji and an AG 1915-D Barber.
Thanks a lot for reading this blog, enjoy the pics of beautiful silver coins, and have a splendid rest of your day!