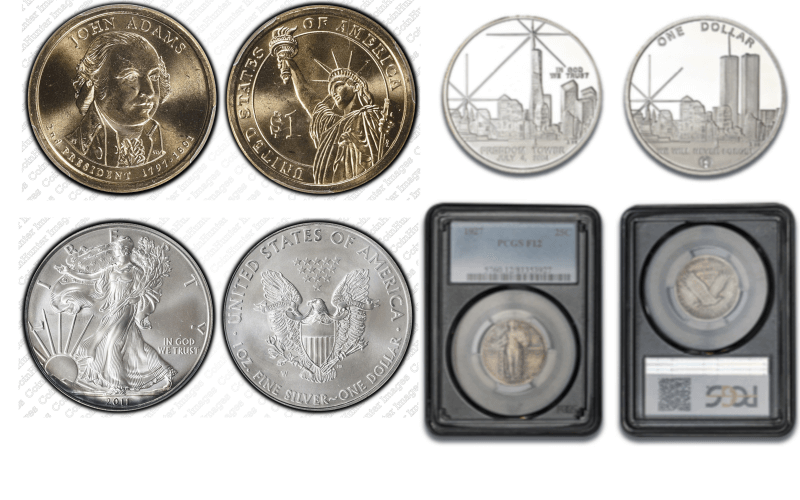 YN Auction Wins and New Purchases | Coin Update #58
Hello all and welcome to another blog!
The main topic of this blog is going to be the 2022 annual YN auction. 
This year I didn't have quite as many $YN as I did last year, and I definitely didn't win as much as I did last year, but I still had fun and came away with a couple of cool pieces.

The first lot I won was my first Daniel Carr piece (if you don't know who Daniel Carr is, you should really read up on some of his work and look at some of his overstrike pieces—there pretty cool). It is a 2004 Northern Mariana Islands fantasy $1. I don't really know much about this piece yet, except the some of the info from the Auctions catalogs' description— "Technically this item is a bronze medal, and from the U.S.A. It is thinly plated with silver containing a percentage of actual silver recovered from the World Trade Center building collapses on September 11, 2001." I was able to get it at a pretty good deal for $220 $YN. I love the "We will never forget" inscription on the reverse. The second piece that I won wasn't as great of a deal at $1000 $YN, but since I had to leave the auction soon after bidding on the piece I decided I was going to win it (even it it cost me like 80% of my YN dollars). The coin I'm talking about is an allegedly nicely toned PCGS F12 1927 Standing Liberty quarter. This will be my first slabbed standing liberty quarter.

Well, that's all I won this year, so let's wrap it up with my first two purchases in quite a while. These two are recent wins from Great Collections (I don't have them in hand yet). First up is my first burnished silver eagle, a 2011-W from the 25th anniversary set in a PCGS FirstStrike SP69 slab. This coin is pretty cool because it has a bit of nice purple toning along the bottom of the obverse. I got this one for a tad over $40, which I consider a great deal (as I consider $40 a great price for pretty much any graded ASE). The other piece that I won recently is a 2007-P John Adams gold dollar in an MS-64 PCGS slab but with a little twist. Although I haven't been able to see what it looks like yet (as I don't have it in-hand) it has overlapping doubled edge lettering. I've always wanted to own one of these cool errors, but have never been able to find one in circulation, so I decided I may as well just purchase one. Believe it or not, I got this one for just a bit over $20. Once I get it in hand I'll be taking some pics of it for sure and I'll make sure to include some in the next blog if possible.

Anyways, thanks for reading my blog, and have a blessed day!