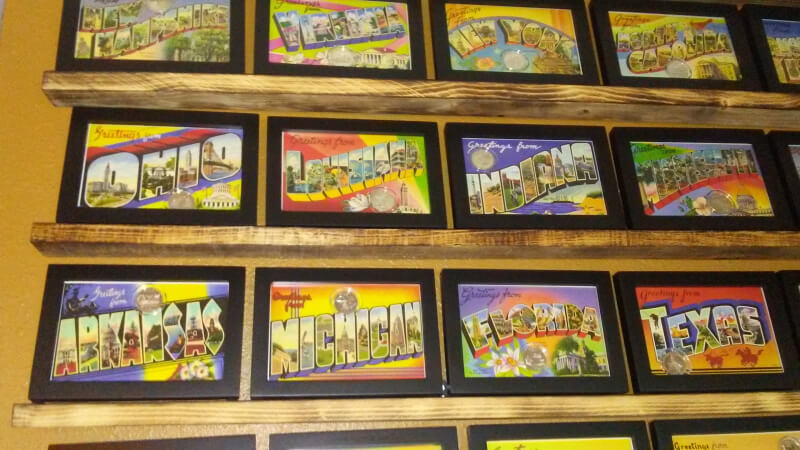 With thanks to The Moke, whom inspired my first blog post, maybe we can get a thread going of collector's displays.
 Growing up in Oregon's I-5 corridor, tucked quaintly between the coastal and Cascade mountain ranges, I spent a lot of time indoors. For those of you who don't know, it rains there, IT RAINS A LOT! One of my favorite pastimes on these cold, wet, dreary days, was to fill the Whitman albums my mother had given me. Like so many other kids, I would fill an album, then empty it when the urge for a Slurpee or a pack of baseball cards hit my fancy, only to refill the album pages during the next extended stretch of cloud covered precipitation. Never a serious collector of coins, I was, however, fostering a life long passion of collecting, more accurately, a passion of hunting down the peculiar items that peaked my interest at the time. Somewhere along the way, I became a collector of collections, post cards (my first true collection), sports cards, Pepsi memorabilia, soda bottles, Hot Wheels, agates and fossils, beer mats, and many more, all things  to which I felt a connection,  In 2000, though, I gleefully succumbed to the US Mint's advertising gimmick of the 50 State Quarters program, and slowly fell back in love with a childhood hobby.  I purchased 3 maps to hold the quarters, 1 for myself and 1 for each of my 2 sons, and began hunting. Sometime during 2000/2001, I learned of the silver proof sets, it was love at first sight!  So began my numismatic journey, it took several years before I would start to learn about the hobby, I am still a novice in knowledge, but am eagerly learning, and thankful to the ANA for the access to their vast library. 
Backtracking slightly, I have never been a wealthy man, though I have been blessed immeasurably, so I took up hobbies that would allow my family to have nicer things than our finances would allow. One of these hobbies is matte cutting, I couldn't afford to take the family pictures into the frame shop and have them done professionally, so I learned to cut mattes. 
When the America the Beautiful program began in 2010, an idea began to form about displaying the quarters that represented the National Parks we had visited. The idea started simply, then became more complex when I received as a gift, one of Yellowstone National Parks 100th Anniversary tokens, so my first coin display was born, I took a reproduction post card of YNP,  token, 2010 S Silver Proof Yellowstone quarter, 2007S Silver Proof Wyoming quarter, & the 4 collector tokens sold at the park (another collection, lol), and matted them all together in an 8 x 10 frame.  This led to Crater Lake ( Oregon 2005S), Mt Rushmore (2005S, 2013S, & 1991 S proof half dollar), to name a few.The result was awesome, not that I'm on the level of a professional picture framer, far from it, but it made a great display of 3 different collections combined, using a craft/hobby that I enjoy! A new addiction! This brings me back to the silver proof state quarters, I wanted to display them. Not only display them,  I wanted to do so in a manner to pay tribute to our wonderful Nation, the country that bore me, the land that I love. So I bought a reproduction set of the "Greetings from " series of postcards from all 50 states, my silver proof sets from 1999-2008, and went to work cutting a circle in the postcard, backing it w/ foam board, and placing the quarter in the hole while contained in a capsule, putting that into a 4x6 simple black frame.  Here is the result, 6 burnt pine shelves, each holding 8 states' postcards and quarters, in chronological order. I held Oregon ( my birth state) & Montana ( where my wife, eldest son his wife & 4 children, & I live) to the side, the wall completed w/ a wooden Betsy Ross flag, including a yellow line in remembrance of those whom have given all. Our little shrine to America! 
I hope you like my little story and my mode of display, I enjoyed telling you about it and would love to see your displays.