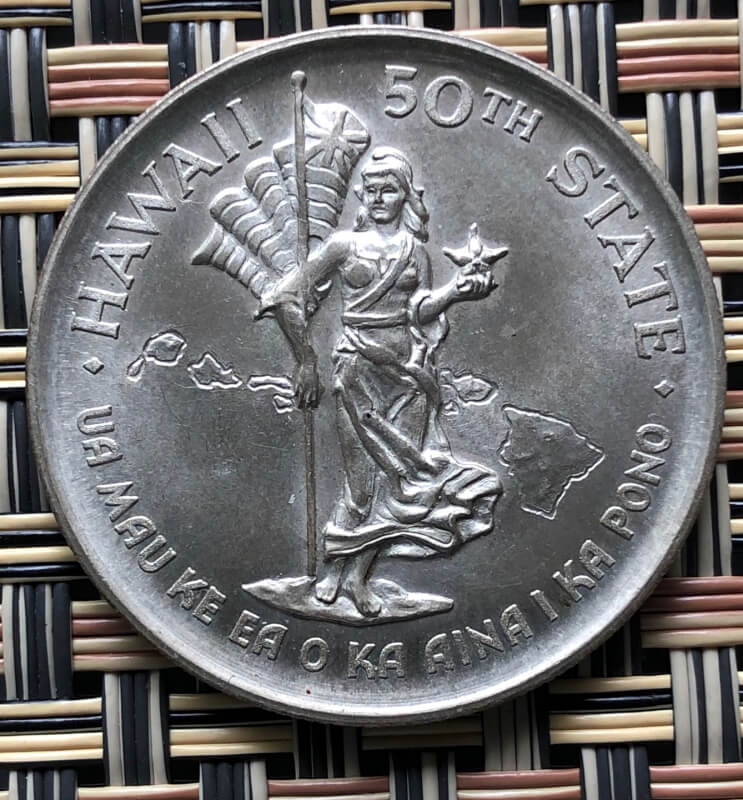 A Little Known Wonder X 60
One of the best things about being an ANA member is the opportunity to share knowledge with each other.  There is not a day that goes by that I do not learn something new and do not find a new collecting niche that piques my interest. 
As some of you may recall, I recently wrote about a book called "Hawaiian Money..." and the items it inspired me to purchase.  Gary, one of our most skilled bloggers, PMed me shortly thereafter with an offer to purchase an extra Hawaii Statehood Heraldic Art Medal.  Gary sent pictures of the medal but I also looked in my trusty reference book and found the medal listed with two different version, a Thin version and a Thick version.  But in reading about this Statehood medal, I found out about a whole series of medals that I was not aware existed.  So here's the Cliff Notes version of the Heraldic Art Medal series.
The brains behind this series of 60 different medals was a gentleman from Cleveland, Ohio named Robert McNamara, he produced these medals from 1959 through 1978, 3 per year, with a maximum mintage of 6000 per issue.  His idea was to make the commemoratives that the Mint would have made if they had continued to make commemoratives after the Washington/Carver Half Dollars series ended in 1954.  Some of his many medals included Alaska Statehood, Centennial of the Civil War, and San Diego Bicentennial.  They are all extremely well executed and certainly worthy of any collector interest.
My Hawaii Statehood medal turned out to be the more common Thin variety, it's weight was about 192 grains vice the 256 grains required to be the thick version.  My medal fits perfectly in a half dollar sized folder and is the kernel of a new collection I am contemplating.  I would like to obtain the Alaska Statehood and St. Lawrence Seaway examples to round out the 1959 issues. 
In closing, I would urge all of you to check out this remarkable series of medals, you are sure to find one or two that will gladden your collector's heart and maybe even send you down a brand new collecting journey. 
https://www.ngccoin.com/coin-explorer/so-called-half-dollars-and-heraldic-art-medals-pscid-121
PS- I owned two copies of the San Diego Bicentennial medal at one time. One of them I gave to a friend visiting me in San Diego many years ago, the other I disposed of sometime in the past.  I never knew they were part of such an impressive series.