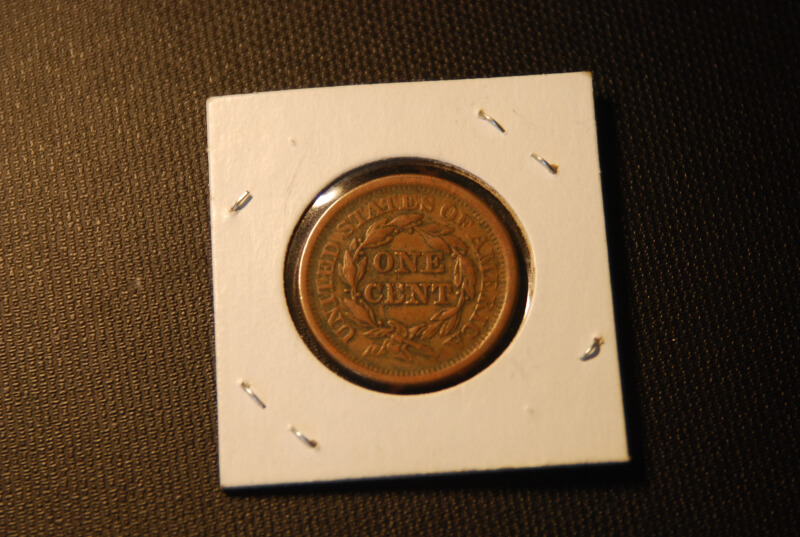 The History of the Flying Eagle Cent
            The very first one cent coins struck by the United States were larger than the ones seen today. These coins were made for many years, but they eventually grew to be unpopular for a variety of reasons. The main reason for the public's overall dislike of these coins was that they were too heavy for everyday use. Also, when circulated, they would obtain an unpleasing color due to being made from unalloyed copper. Not only this, but coins were also becoming too expensive to make due to the rising price of copper.
The mint, trying to find a solution to these problems, started to search for an answer, and eventually settled on a solution. The new alloy that would be used on the one cent coin was eighty-eight percent copper and twelve percent nickel. Not only did the metallic content in the coin change, but the size of the coin shrunk to a size similar to the modern issues of the one cent denomination. The only difference in the planchets of these older coins, besides the different composition, was the thickness of the coins. The flying eagle cents are much thicker than the coins more recently struck.
The obverse that was made for the new one cent coin was an adaption of the design used on the back of the Gobrecht Silver Dollars. The reverse design for the flying eagle cent came from the three dollar gold coin. About 2,000 pattern coins were struck of this design, and another 1,500 proof coins were made for collectors in 1856.
Authorization wasn't given to make the flying eagle cent till 1857, so the one cent coins from 1856 were struck without official permission, and were used to promote these coins to politicians. When these coins were first made for circulation in 1857, the flying eagle cents were sold to the public on the yard in front of the mint. In this year, over seventeen million one cent coins were struck, and in 1858 over twenty-four million were made.
Though these coins were highly popular during its first release, the mint only officially made them durring two years (1857 and 1858). One of the reasons that may have contributed to the retirement of this design was the fact that it was hard to get a clear strike.
The Indian head cent was the design that succeeded the flying eagle. The obverse showed Liberty wearing a headdress, which looks like an Indian head. The reverse shows a laurel wreath, deferent to the one seen on flying eagle cent design.
The flying eagle cents, among other small cents, are highly collectable. This coin has an interesting story, and is very popular. They were the first small cent, and one of the shortest series of American coins.
Works Cited
Garrett, Jeff. A Guide Book of United States Coins 2021, 74th ed. Pelham, Whitman Publishing LLC, 2020
Reiter, Ed. "The Flying Eagle Cent: The Start of Something Small in U.S. Coinage." Littleton Coin Company, https://www.littletoncoin.com/webapp/wcs/stores/servlet/Display%7C10001%7C10001%7C-1%7C%7CLearnNav%7CFlying-Eagle-Cent-Start-of-Something-Small-in-US-Coinage.html 8/30/2022
Gilkes, Paul. "Know your U.S. coins: Flying Eagle." Coin World, https://www.coinworld.com/numismatic/collector-basics/know-your-us-coin-flying-eagle.html# 8/30/2022
Giedroyc, Richard. "Flying Eagle Cent." PCGS https://www.pcgs.com/coinfacts/category/flying-eagle-cent-1856-1858/664 8/30/2022