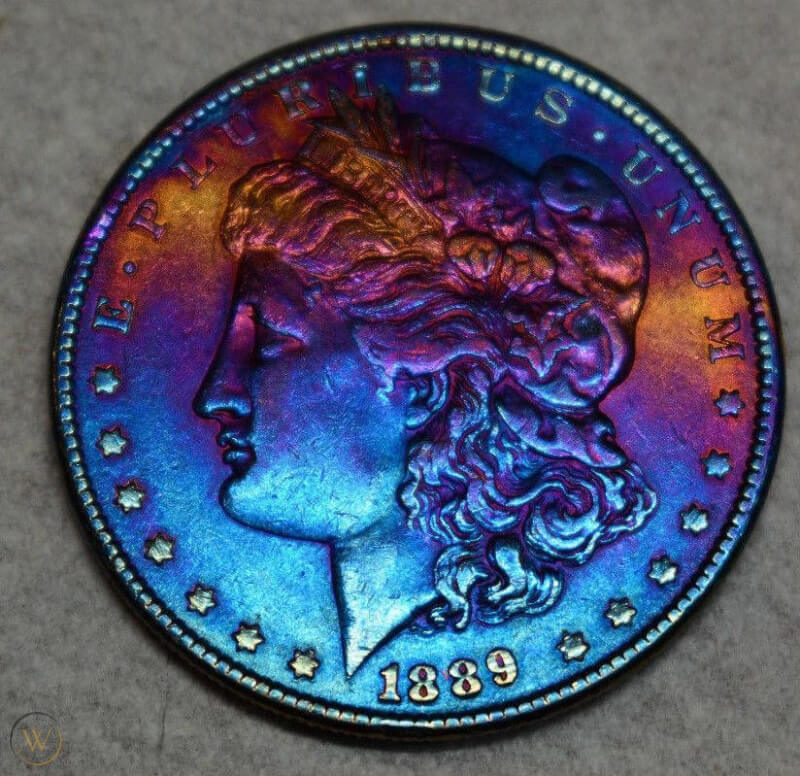 Hello, everyone! Today I will be going over the basics of toning on coins and how it occurs. Toning is very important in the coin collecting world, as unattractive toning can decrease a coin's value significantly, while attractive toning can increase a coin's value significantly. There is a lot to know, so let's dive in!
How Toning Occurs
  Toning is defined as a chemical process using oxidation where the outside of the metal forms into a thin layer of tarnish, which can be many colors. Toning occurs depending on the environment a coin is in. The primary way toning occurs is through a reaction with oxygen or sulfur. However, the process of coin toning can quicken if the coin is exposed to heat, moisture, or other chemicals in the environment. Some of the most harmful chemicals that make a coin tone are in certain coin holders, like albums. If you like toned coins, buying a coin holder like this may not bother you, but if you prefer a blast white coin, you may want to do some extra research so that you buy a coin holder that does not tone coins.
Colors of Toning
  Toning can come in all sorts of colors and combinations. Sometimes that color is very pretty and sometimes the color can be very ugly. Coin toning is most common on copper and silver coins, with the most beautiful toning often being seen on silver coins. Gold coins rarely ever tone, however, it can happen on older gold coins as they are made of 10% copper, a metal that tones easily. The colors of coin toning often happen at certain times. First, a coin will turn to a gold or burgundy color. Then, coins will often start to turn blue, yellow, red, or pink. Next, coins turn into a deeper blue, green, or magenta. Then, coins will become very dark, but will still display hues of blue, green, purple, or magenta. Finally, a coin will turn dark black and become very ugly. It is important to note that all toned coins will eventually turn black. However, it could take a couple decades to many generations for this to happen.
Natural Toning vs. Artificial Toning
  As previously mentioned, coins can tone through chemical reactions in the environment. However, "Coin Doctors", or people who make fake (artificial) toning try to make a coin look beautiful in a few minutes with special devices instead of waiting many years for a coin to tone naturally. Often, they will try to apply sulfur to a coin unnaturally. However, this typically results in bright colors that do not blend well. Splotches, spots, and uneven color are often signs that a coin has been artificially toned. I would suggest going to https://www.gainesvillecoins.com/tips/48/signs-of-artificial-toning-on-coins
for a full list of signs that a coin is artificially toned. The picture of an 1889 blue toned Morgan Dollar is an example of an artificially toned coin that someone is trying to sell as a real toned coin for a ton of money. DO NOT FALL FOR THIS TRICK!!! I would suggest only buying coins that have been authenticated by a coin grading company if you want a crazy toned coin.
Effect on Value
  Toning on a coin can have a big effect on how much money a coin will bring at auction. Ugly toning can decrease a coin's value significantly. In some cases, a coin's value can be cut in half or at least ¾. On the other hand, a coin with beautiful monster rainbow toning can increase a coin's value significantly. In some cases, if a coin has been certified as having natural toning, it can bring thousands of dollars more than the value of a coin with no toning.
Clearly, toning can be a very important part of coin collecting. Thankyou for reading this brief overview of toning and have a nice day!
Sources:
https://shopcsntv.com/blog/all-about-coin-toning 
https://www.thesprucecrafts.com/coin-toning-definition-768303#:~:text=Toning%20occurs%20naturally%20over%20time,various%20chemicals%20in%20the%20environment.
http://www.jhonecash.com/research/sunnywood_classification.asp