Quick Links
Elevate Your Coin Club with ANA Membership
Check out the links in the Resources and Services menu, and explore the many benefits of ANA Club membership with this 23-slide presentation below. Click the three black vertical dots in the slideshow navigation menu for more options.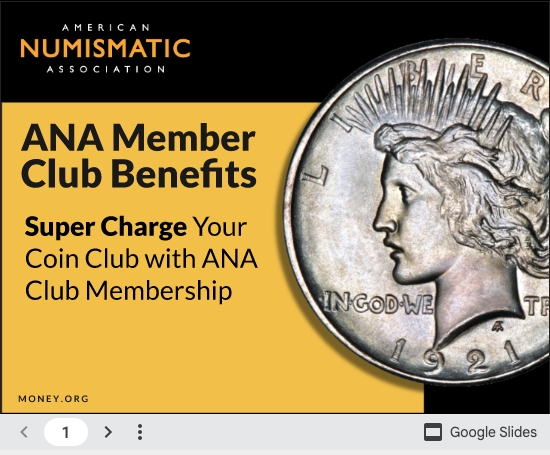 Benefits, Resources & Services Links
Download Club Application
Club Directory
Update Club Listings
Add Meeting to Events Calendar
Outreach Package Request Form
District Representatives Program
Activities for Clubs
Latest Issue of MintMark
Club Publications Contest
Summer Seminar Scholarships
Club Certificate of Appreciation
Club Community Blog
Subscribe to Our Blog
Numismatic news and stories, coin collecting tips, and more. ANA Coin Press is the official blog of the American Numismatic Association.