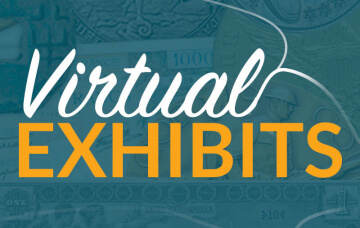 MONEY MUSEUM Virtual exhibits

The ANA's Virtual Exhibits webpage takes popular displays from the Edward C. Rochette Money Museum and makes them available online to enthusiasts around the country and world.
Learn about the museum's spectacular rarities, explore a wide range of historical subjects, and expand your collecting knowledge and interests. These virtual exhibits allow you to view high resolution images and detailed information about fascinating numismatic objects. Bookmark this page—it is regularly updated with new content!

Explore More Virtual Exhibits