Victory Medals of World War I
At the end of World War I, the allied nations issued victory medals  celebrating the end of the fighting.  The decorations record the supreme moment of relief felt by each nation that four years of bloodshed was finally at an end.
These medals had a common theme of a winged Victory on the front with an inscription on the reverse with similar wording. The proposal for a common award to be issued by each nation was made by the supreme commander of the Allied Forces, French Marshal Ferdinand Foch. The standard was for a bronze medal 36mm in diameter with double rainbow ribbon, each with a different national design based on the theme of Victory. 
Criteria for issuing the medals were different for each country — some only included combatants, while others included anyone involved.  The American medal was designed by James Earle Fraser and was authorized in 1919.  Its reverse had "The Great War For Civilization" inscribed across the top and a list of the Allied nations on either side of an American shield with a fasces over it (symbolizing peace) and six stars below. Since Congress didn't fund the medals, they were issued by the Army and Navy departments through general orders and were issued to all servicemen who served between April 6, 1917 and November 11, 1918 and those that served in European Russia or Siberia between November 11, 1918 and April 1, 1920.
---
Click on the items in the case image below for an enhanced view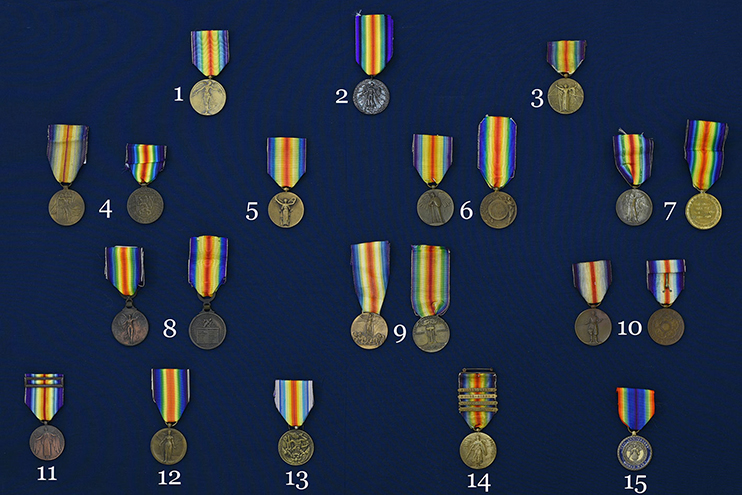 Additional information on WWI and the Red Cross available at Tales From the Vault.