Tips for Buying & Selling Bullion coins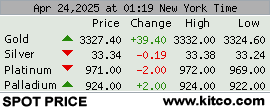 Gold and silver prices have been at or near record levels recently, heightening interest in buying and selling gold and silver coins. Consumers, however, should resist the temptation to make impulse buys or to sell an item before researching its potential value.

The ANA urges everyone to be wary of cold-call solicitations or mobile offices, set up in temporary locations such as motels, offering instant cash for gold and silver coins. Be patient, be informed and don't let anyone pressure you into making impulsive decisions.