Gold and silver prices have been at or near record levels recently, heightening interest in buying and selling gold and silver coins. Consumers, however, should resist the temptation to make impulse buys or to sell an item before researching its potential value.
The ANA urges everyone to be wary of cold-call solicitations or mobile offices, set up in temporary locations such as motels, offering instant cash for gold and silver coins. Be patient, be informed and don't let anyone pressure you into making impulsive decisions.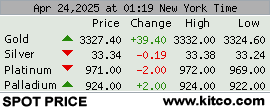 Bullion Buying Checklist
Following the checklist below is encouraged when buying or selling gold or silver bullion coins:
1. The reputation and expertise of your bullion dealer is important.
Your dealer needs to be a respected name in the industry with experience buying and selling bullion in fluctuating markets. ANA dealers must adhere to a strict code of ethics. To locate an ANA bullion dealer, use our Dealer Directory.
2. Know the actual cost per ounce of precious metals.
Gold, silver, and platinum prices fluctuate daily, so check that day's spot price prior to making a transaction. Expect to pay a higher percentage over melt value for fractional gold pieces (1/10th, 1/4th, and 1/2 ounce) than for one-ounce pieces. Also, American Eagle and Canadian Maple Leaf bullion coins typically have a higher retail price than South African Kruggerrand bullion coins.

3. Understand the fees and/or commissions involved.
According to the Professional Numismatists Guild, the average retail commission for one-ounce American Eagle or Maple Leaf gold coins is about five or six percent.

4. Arrange for timely delivery.
If immediate delivery is not possible, obtain from the seller in writing specific confirmation about the delivery date. Only then should you execute your order.

5. Know that all investments come with risks.
If you intend to buy bullion coins for investment purposes, your best protection is to spend time learning about the coins before you buy them. Uninformed buyers who make hasty purchases often overpay. Like any investment, there are no guarantees – and no one can predict with certainty that gold and silver prices will remain at the current levels or continue to appreciate.

6. Protect against identity theft.
Do not give out credit card numbers or bank account numbers or other private information such as Social Security numbers over the phone to anyone not known to you.
Glossary of Terms
Bullion Coin
A bullion coin is a coin that is valued by its weight in a specific precious metal.

Collector or Rare Coin
The value of a collector or rare coin is based upon the coin's rarity, demand, condition and mintage. A collector or rare coin may be worth more than its bullion value.

Spot Price
The spot price is the market price for immediate delivery of a commodity, such as gold, silver or platinum.

Melt Value
Melt value refers to the basic intrinsic bullion value of a coin if melted and sold.
Spread
The spread is the difference between what a dealer will charge to sell an item and what he will pay to purchase it.

Troy Ounce
The troy ounce is the measurement used in the pricing of precious metals such as gold and silver. The troy ounce is 480 grains or exactly 31.1034768 grams.

Ask
The price a seller is willing to accept for a security, also known as the offer price. Along with the price, the ask quote will generally also stipulate the amount of the security willing to be sold at that price.

Bid
An offer made by an investor, a trader or a dealer to buy a security. The bid will stipulate both the price at which the buyer is willing to purchase the security and the quantity to be purchased.
Helpful Reference Materials
The Red Book
Yeoman, R. S., Bresset, Kenneth, ed. Guide Book of United States Coins, Atlanta, GA: Whitman Publishing, LLC, 2019.
The Coin Collector's Survival Manual
7th Edition, Scott A. Travers, New York: Random House, 2015.
Standard Catalog of World Coins, 1901-2000
46th Edition, Iola, Wis.: Krause Publications, Inc., 2019.
Standard Catalog of World Coins, 2001-Date
13th Edition, Iola, Wis.: Krause Publications, Inc., 2019.
FTC: Investing in Bullion and Bullion Coins
Consumer Information from the FTC Website