Pieces assembled by an aviation pioneer find a home at the ANA Money Museum.
"Men become wise just as they become rich, more by what they save than by what they receive."
—Wilbur Wright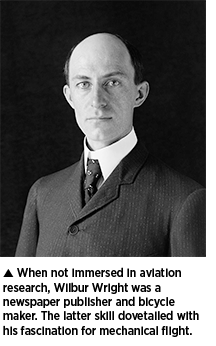 The ANA's Edward C. Rochette Money Museum has been the beneficiary of many thoughtful donations of collections assembled by people of different backgrounds. A gift of particular interest is the one put together by famous aviator and inventor Wilbur Wright (1867-1912). This well-balanced collection includes many interesting pieces from around the world, and provides a glimpse into Wright's fascinating life and travels.
The accomplishments of Wilbur and his brother Orville (1871-1948) are well known. In 1903 near Kitty Hawk, North Carolina, they conducted the first powered flight of a heavier-than-air craft. Initially, the brothers received neither fame nor financial gain, but they continued to improve upon their invention. In 1905 they produced the first functioning fixed-wing aircraft.
Eventually, Wilbur and Orville earned international acclaim, and since then they have been honored on a number of coins and medals. They are the subject of state quarters representing North Carolina and Ohio, and a 2003 series of U.S. commemorative coins.
Wilbur died in 1912 of typhoid fever at the age of 45. Neither he nor Orville married or had children, but they had several nieces and nephews. Their oldest brother, Reuchlin, had a son, Herbert, who in turn had a son, whom he named Wilbur H. Wright after his celebrated uncle.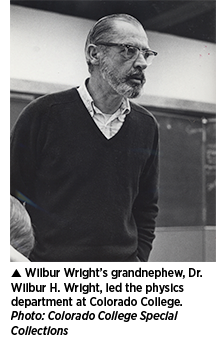 Wilbur H. Wright (1920-91) inherited his family's interest in physics. He served in the Army Signal Corps during World War II and received a Ph.D. from Rutgers University in 1952. In 1956 he became a professor of physics at Colorado College in Colorado Springs, where the ANA's headquarters and museum are located. During his tenure at the school, Dr. Wright received several grants and fellowships from the National Science Foundation. He served as chair of the physics department until his retirement in 1984 and was active in the community.
In 2000 Wright's widow, Priscilla, contacted the ANA to donate her husband's coin collection, which had been passed down to him from his granduncle. "The coins were entrusted to my husband by Orville Wright's longtime secretary," she said when the donation was announced. "[My husband] spent a lot of his time growing up around Uncle Orville, and set his life's course according to his standards and those of his other famous uncle."
The collection consists of 101 coins from the late 18th to early 20th centuries, though about 30 apparently were added following Wilbur Wright's death, as some specimens are dated after 1912. Eighteen are American issues, with other coins produced by Austria, Belgium, Canada, France, Germany, Great Britain, Guernsey, Italy, Mexico and the Netherlands. While it is not known why or when he started his collection, it is clear he had a wide range of interests and a knack for finding fascinating coins in good condition.
In 1908-09 Wilbur Wright traveled to Europe twice, where he gave more than 200 flight demonstrations and trained pilots across the continent. (No doubt, he also acquired the majority of his European coins during these trips.) He amazed skeptical crowds in France with his displays of aerial prowess. In 1906 the Paris edition of The New York Herald commented, "The Wrights have flown or they have not flown. They possess a machine or they do not possess one. They are in fact either fliers or liars."
Needless to say, Wright mightily impressed kings, queens and other prominent European leaders and instantly became an international celebrity. In the process, he cemented his and his brother Orville's rightful reputation as the men who were "first in flight."
Click on the images below for an enhanced view.

Suggested Reading: McCollugh, David. The Wright Brothers. New York: Simon & Schuster, 2015.